This kit contains:
Plastic parts: 99
Resin parts: 6
Rubber parts: 20
Photo-etch parts: 2
No, you don't need new glasses: UM has provided resin parts to turn this T-34 into a "Beute". This is probably to cut costs (resin parts are cheaper than injection plastic when produced in small numbers.); the parts are nicely cast, so for a modeler with some experience these should not pose a problem. It also means that you get a complete Red Army T-34 Model 1940 as well. So, if you can get this kit for the same price as a regular T-34 and don't need the decals, you might as well buy this one.
(I am no T-34 expert whatsoever, so please let me know if UM is right in calling this a Model 1940.)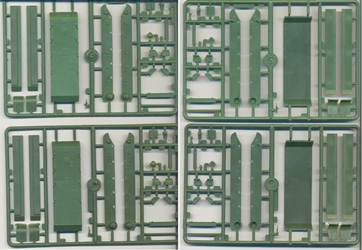 Top: sprue from kit 327; bottom: sprue from this kit.
The sprue for the lower hull is basically the same in most (all?) T-34 based kits from UM, although there are minor differences.
This kit has a sprue marked "327" and, at first sight, is the same as in kit 327 and kit 325. There is a difference however: the sprue in kit 327 (which is marked "325") has a hull MG with shield, while the MG in this kit goes without. The bump stops are also slightly different.
Note that, oddly,
- kit 325 has sprue 325;
- kit 327 has sprue 325;
- kit 251 has sprue 327.
The sprue for the upper hull and turret is marked UM328-E. As kit 328 corresponds to a T-34/85 w/Zis-S-53 cannon, this does not make too much sense, as the sprue definitely contains an early, flat turret and not the T-34/85 one.
I can't compare with all other kits, but the hull is different from the one in kit 325 (T-34/76 Mod.1942) and also different from kit 327 (T-34/85 with D-5T gun).
Note that the driver's and turret hatch can be opened.
You get two sprues for the tracks and road-wheels (marked UM336-A) and two for the rubber tyres and tow cables. While the latter have the advantage of making it easier to represent a vehicle with burnt-out wheels, I have some misgivings about the concept. Even more so as, reputedly, the rubber will eat into the plastic of the kit.
As you can see below, the layout of the sprue with the wheels is basically the same as in other kits, but there are quite a number of differences. A good number of the hand-rails in this kit came either bent or broken.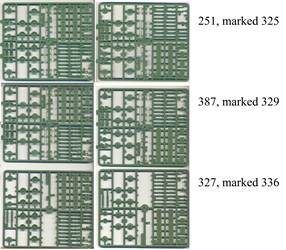 Above: the sprues in some of the UM T-34 based kits I have, resp. kits 251, 387 and 327. (Each kit comes with two of these sprues).

The resin parts which are unique to this kit and which contain the new copula from the Panzer III, a Notek light and some stowage boxes: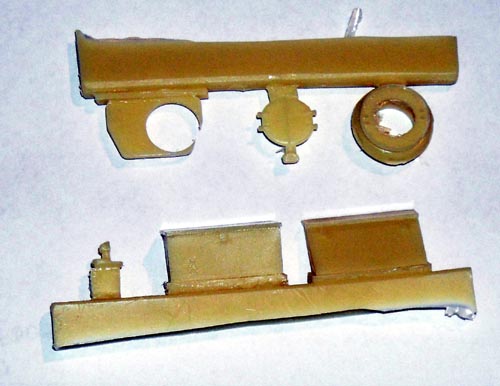 The regular small, but thick, PE set, included in almost all T-34 (based) kits from UM: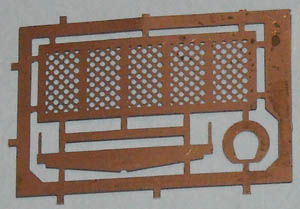 The engine mesh is supposed to be placed on top of the engine deck, which I don't think will look too good.
You only get one paint scheme. The manual speaks of an unknown unit, but I am pretty sure the tank on the box is the vehicle of 4.(Pz.)Kp./s/Ski.Btl.1 shown in Panzer Tracts 19-2 page 95.
It's UM's habit to provide more decals than needed for the marking options. In this case it seems the sheet is shared with kit 253 and possibly another, yet to be released kit, as I believe the "125" corresponds to a T-34/85 in the same Panzer Tracts book. If so, this means we will get a T-34/85 Beute in the near future. It's actually just a matter of new decals, so you could already use these to make your own Beute.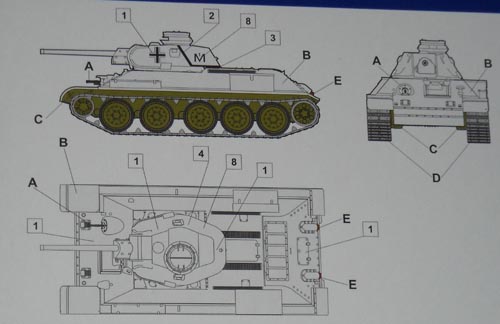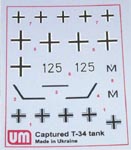 Tony Mackinder adds:
The kit represents a model 1940, but it does not have the early tracks that are portrayed in the artwork.
The roof and cupola just look silly! It would be better to replace them with the spare ones from the Dragon German T-34 1942 kit.
The stowage boxes are good (the Dragon equivalents are a just bit too big but could be used) .
The Notek light is okay but the Dragon ones are better.
Typical items like a German jack, German aerial socket, spare track section or jerry cans are lacking.