Trumpeter have added another pair of Famo models to their range (I believe these are exactly the same kit).One has box art showing the later 'cutaway' mudguards (Kit 07251) and the other (Kit 07253) has the bigger earlier style mudguards. (Both types of mudguard are in each kit anyway.)

The only differences between these kits & the standard revised Famo kits is the that main sprue C has a different Cab/deck floor with a circlular base for the new sprue F with the crane details, there are even the side walls & rear of a standard Famo left on the sprue. (So you could build it as a standard Famo & put the Bilstein crane on a Bussing Nag Truck which is the other user of this crane.)

http://www.afrikakorps.org/_photos/TigerI141/501TigerI141wBN4500Crane3HT.jpg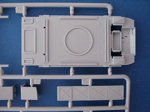 These kits contain all the same sprues as the standard Famo kits (see those sprue here) plus the new sprue F. Sprue F contains 22 new parts to make the Crane and Boom including separate pulleys, hook plus 4 stabiliser bars with square feet/bases, it also has a large tool box & the cab sides with the familar 'door' cut-out.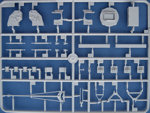 One strange omission is there is no decal sheet in these kits. They do supply a clear sheet for the windscreen & some cotton to use as cable for the crane.
The only in action picture I could find was in the Bundesarchiv website (see http://www.bild.bundesarchiv.de/).
Conclusion
This sprue is beautifully moulded like the rest of the kit & will be another great addition to the 'support' & 'maintenance' range of vehicle to use in big diaramas.
Highly recommended.