These so-called "Super-Macks" were designed as prime movers for 155-mm guns and 8 in. howitzers.More than 2000 were built between 1943 - 45, many of them fitted with steel bodies and supplied to NATO member countries after WW2.
Wespe Models of Romania new kit will be a welcome addition to all fans of WW2 (and later, see above) Allied vehicles, especially the 'wheeled' faction. The masters for this kit have been prepared by detail wizard Alexandru Giersch of Bucharest, Romania who has started to make himself a name in the smallscale resin community.
The kit is provided in two ziplock bags within a spacy clear plastic box; instructions are clear but rather brief so some reference should be consulted. No decals are provided.
The kit consists of more than 60 finely detailed parts with a well thought-out mixture of details provided separately (e.g. tools) and those cast directly onto the parts such as doorhandles.As has become Alexandru's hallmark the attachment points are astonishingly thin which is a great boon particularly regarding the wheels, which can be separated without any tread damage worth mentioning. This is even more important as the wheels are well detailed and look quite convincing even on the sprue. The cab interior has good detail (even the folds of the seat padding look very natural) with filigrane levers. Overall, the parts look very delicate and well to scale, with the cab canvas being so realistically thin it is actually slightly translucent. The radiator guard is provided not in metal but in resin and quite delicate but robust enough to stand up to the inevitable but tolerable cleanup.
Casting quality is good with very little flash and few airbubbles only. My sample suffered from slight upward bending of the front mudguards which I presume is owed to Wespe's casting technology, as all of Alex' masters I have seen were impeccable. Still, the same thinness of the parts which provides a challenge to mass-production casters should allow the builder to quickly correct such flaws with a hairdryer or a bowl of near-boiling water. Another small but lamentable flaw involves the grid pads in the driver's cabin and on the mudguards which have strangely "peeled off" in some parts, an error that will be hard to correct; the best solution may be to cover the faulty spots up with dirt or gear. Parts fit is good to very good as concluded from initial tests involving the major parts.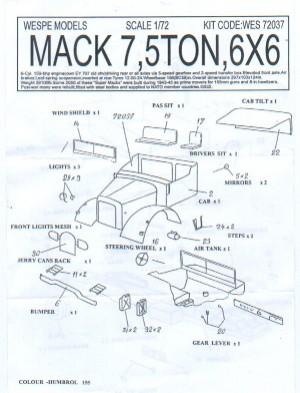 Any experienced modeler should not have trouble generating an impressing model of an impressive truck right out of the box; some minor additions such as wipers or replacement of a few of the small resin parts by wire should produce a contest winner.
Thank You to Alexandru Giersch for providing the review kit.