Just by coincidence I noticed this new release by Trumpeter, and immediately decided I wanted to have it.

The box top picture depicts a built model of this early mechanized 10.5cm K18 gun carriage and shows the details of the model, displaying the Panzerjäger Abt. 521 unit marking that is known from actual combat usage in 1941 of the only 2 (two!) prototypes made.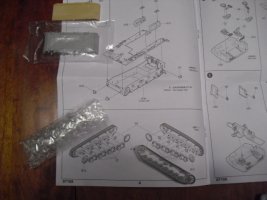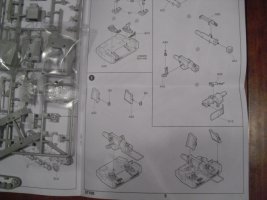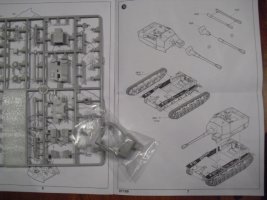 Interesting are the early track and sprocket types represented here in keeping with the then current PzKpfw IV chassis parts represented in the Ausf B and C types. The sprues and assembly instructions are not spectacular in complexity and although the number of parts amount to more than 100 (the parts total is advertised as an indicator of the kit's quality), the kit does not promise a lot of difficulties in completing assembly. Trumpeter's approach has the lower hull and upper hull casemate molded as one piece which provides a stable platform for the rest of the build. Combination of the two during a dry fit showed no problems. Some care is needed to join the barrel halves but that what modelling skills are all about.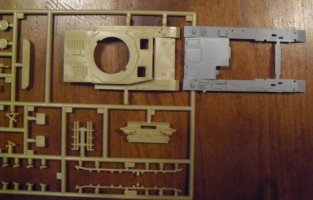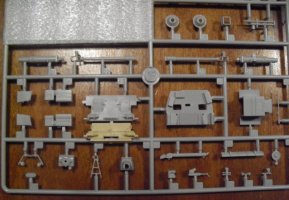 I selected a Revell PzKpfw IV hull top to compare the width. It seems to be spot on with the Revell offering, a kit that I consider fully representative for a PzKpfw IV in 1/72. A similar comparison with the bottom plate indicates we have a model that is close to the exact 1/72 scale as delivered in the Revell model. A comparison of the tracks show the Trumpeter version to be less wide than the Revell but this is not wrong, as the first tracks were the least wide types and PzKpfwv IV tracks grew in width with each design change to carry the added weight of the armour increase. What strikes me in this kit, is that the interior is reasonably represented and detailed for a vehicle with only two units made, no doubt because one specimen was preserved in many detail photographs. An advertisement was included by Trumpeter showing other products, among which seems to be a 1/35 scale version of the same vehicle, closing a supply gap for this real special prototype. The modeller can add a lot to the inside details from their own resources, and have fun doing so, but they will have to figure out a way to see it all because in the end, it's an almost a completely enclosed casemate. Nevertheless, what we do see of the inside detail is the back partition and gun compartment with unexpected interior details appear that you would not expect.



The packaging of the parts is very well done, with separate sprue frames having wrapped protection with all the sprues in separate plastic bags to protect the light grey hard styrene parts. The quantity of bags and the excellent protection of the track units on this level I've never seen before. Even the decal sheet is closed and taped preventing the movement of the protective film. Damage to the printed images will surely not happen here.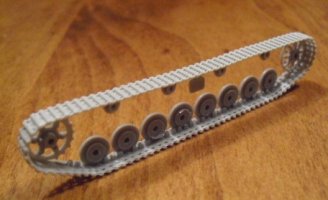 The reason for the very well protected track units becomes clear when unpacked. They are really stunning and use a very inventive approach for a one piece injected part. I hope the pictures show you what I mean as the thin and fine detail is magnificent, and note the picture where I captured the track horns actually being a flat pillar shape as they should be, instead of the wide triangular humps seen in other one piece injected units as seen with "S-Model" kits from China. This proves, that actual correct horns in quick build kits can be done, and I pardon the gap in the horn run close to drive wheels and sprockets that obviously stems from mould limitations.

I had a look at the early Panzer IV sprocket types, comparing them with period photos and with a Mirage kit I have. I believe these are very realistic representations of the early style PzKpfw IV vehicles. Who knows what more early 1/72 types will be coming from Trumpeter having successfully used this mould technique in this kit? I will not complain if they choose to release an Ausfuhrung B, C or D, and that's a fact.

This prototype will make a very nice addition to your model collection of Pz IV related armoured vehicles in braille scale. If you are an addict to type collecting, as I am for the PzKpfw IV, this is kit is a must-have, but then what is not for the avid collector we sometimes become, or for that unique diorama to build with this model? This kit screams out for some Preiser figures hanging around it or doing maintenance.

Enjoy, like I did, this very detailed, crisp and unique model and its excellent track design that will build into a nice model in short time thanks to the simple, but efficient design by Trumpeter.
Preview sample purchased by the author.
(Also check out the previews of this kit by Stephen Bezinski and Ken Overby.)