Trumpeter has been teasing the modeling community for several years now with kit announcements that never seem to materialize. But finally the long wait is over for this pair of German tank destroyers. Coming very soon after Dragon's release of their versions of the Elephant and Ferdinand, these two new kits from Trumpeter far surpass the Dragon kits in almost every way (though not all). The two models will be treated to a shared Preview, considering the similarity between the two kits.

The molding of these kits is first rate. The detail on everything is outstanding, and very delicate. The two kits are perfectly accurate in size, shape and details. The chassis is highly complex, and it allows the modeler to fully articulate the wheels, so as to easily display the vehicle traversing uneven terrain. There are horrible ejection pin marks on the top of the fenders, most of which will be covered by other parts, but not the two front ones, which will need filling. Had there been any tread pattern on the fenders, it would have been lost in this clean-up operation. There are a great many very small parts, so care will be needed when removing them from the sprues. The following sprues are included in both kits:

The fighting compartment is highly detailed, with all hatches open (though the hatches themselves are molded as very thick single parts, which will need care in separating).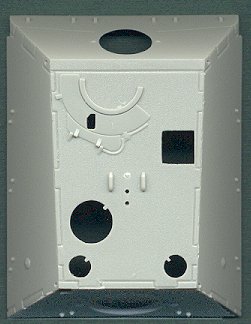 The tracks are molded in link and length hard plastic and are highly detailed. Pictured here are the Ferdinand tracks:

Note that the tread patterns for the two kits are subtlely different (Ferdinand on left, Elephant on right):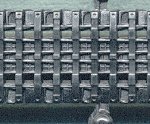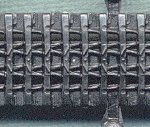 Here are the parts that are unique to the Elephant:

This vehicle comes equipped with the hull-mounted MG and a periscope-equipped cupola for the tank commander. Unfortunately, the commander's hatch is molded shut within the cupola.
These are the Ferdinand parts:

The Ferdinand has no hull MG, the commander station lacks a cupola, and the engine deck is different than the Elephant's engine deck (this is a major detail that was missed by Dragon in their Ferdinand kit, thereby crippling it).
Each kit also comes with a small fret of photoetched brass parts, and a short length of string to use for the tow cables: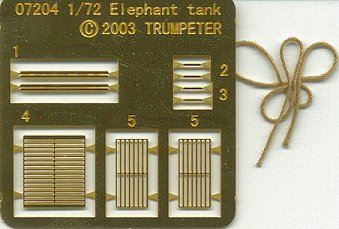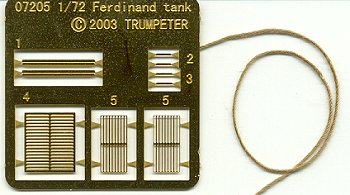 Decals for the two kits are unfortunately limited to a single marking option each: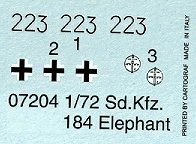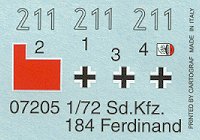 They are well-printed, but nowhere in the kit does it tell us what units these are for.
The instructions are very well done, with clear step-by-step assembly drawings and four-view drawings for the paint scheme, though without any vehicle history.
What I dislike about these kits are the closed crew hatches on the hull, the closed commander's hatch on the Elephant, and the poor selection of marking options.
If this is what all future Trumpeter kits are going to look like, they will establish themselves as the leader of small scale tank models manufacturers.
References:
Achtung Panzer No. 6 Panzerkampfwagen Tiger, by Bitoh (ed)
Panzer Tracts No. 9 Jagdpanzer, By Jentz and Doyle
Museum Ordnance Special No. 9, Elefant - Panzerjäger Tiger (P), by Jentz and McKaughan