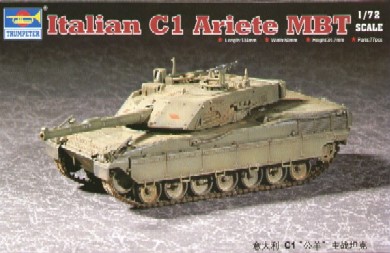 Released almost at the same time as the Challenger kits, we have another Modern vehicle to the inventory, this time it is the Italian C1 Ariete, Italys latest MBT mounting the same 120mm smoothbore gun as mounted in the Leopard 2 and the M1A1 Abrams. The Ariete owes its heritage to the Leopard 1 manufactured under license in Italy as the OF-40 MBT's.
This is a very simple kit with few parts, however don't let that fool you. the kit is a very good representation of the real vehicle and it is only the simplified details and moulded on tools that prevent this from being an excellent kit.
the hull comes in a one piece lower tub with the suspension moulded in place on to which fits the one piece upper hull, as can be seen the drivers position as are all the hatches moulded shut
The 2 main sprues contain the road wheels and turret parts, it is suprising how few parts there are.
The upper turret is very well detailed on the roof and sides, the only drawbacks are the closed hatches and the inplace tools on the turret sides
Trumpeter have out done themselves this time providing two finish options in the instructions instead of the usual 1. The decal are well printed and in register.
Despite the simplicity of the kit, it is actually a very good likeness and scales out to 1/72 only the closed hatches and the moulded on tools detract from what is essentially a very good kit.
References
Jane's Armour and Artillery 1990-91 11th Edition by Christopher F Foss
Jane's Tanks and Combat Vehicles Recognition guide Second Edition by Christopher F Foss