This was a pretty nicely fitting kit, as noted in Doug Chaltry's build preview here and build review here on OTW. There are a few other issues with the kit though, some of which I corrected.

From an accuracy perspective, the turret has a few issues. It seems a bit shallow, but I can't say what dimensional characteristic leaves me with that impression. It's just a look. The FN MAG on the commanders copula is quite good, but there is no representation of the small spotlight astride it. Missing is the grease gun with associated mounting provisions on the back left hand side of the turret. These were scratch built and added. The commanders sight is missing the canted visor, so that was adds using .010" strip styrene. All sight optics and transparencies were represented using back painted acetate. The Revell smoke dischargers are pretty anemic, so I robbed a pair of nicer looking ones from a Trumpeter Challenger 2 kit that I had in inventory.

As for the hull, the mounting provisions for the side armour arrays are quite thick and thus don't scale out well, which leads to issues trying to replicate the slight standoff that the array should have to the sponson. I replaced parts 72/73 with some .010" styrene and representative hardware. There was no representation of the drivers vision port immediately aft of the hatch, so that too was added using back painted acetate.

I used most of the Extratech photoetch set (kit no. EXV 72005), with the exception of the headlight guards which were a bit oversized in my opinion. The headlights themselves were drilled out and Wave brand headlights were added.

The rear fuel drums and associated mounting provisions are another issue. They appear to be correctly engineered, but the instructions would have you mount the support frames upside down, resulting in the strap handles on the drums pointing up rather than to the rear as they should. The drum ends also aren't recessed and thus don't have a realistic lip that is present on pretty much all 45 gal drums. I scarfed out, thinned down and replaced the drum lids to at least give the impression of the correct lid recess.

The subject is taken from a couple of photos in Concord's publication on Operation Granby, of a Challenger that has just been unloaded from a Scammell transporter. The subject vehicle had no markings of any sort visible on it, other than a wooden plank secured to the frontal reactive armour array, with the text "Scud City Surfers" on it.
Review sample purchased by the author.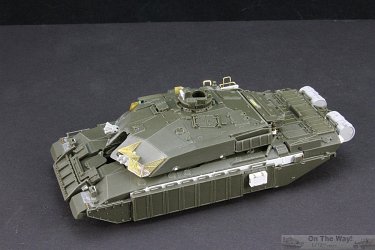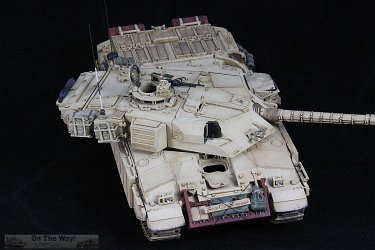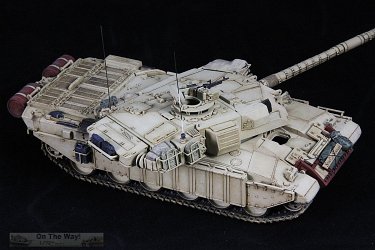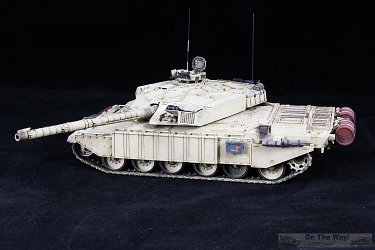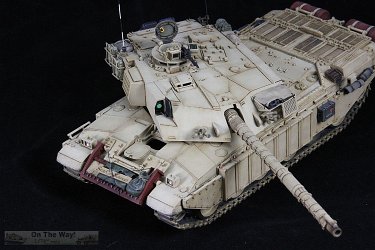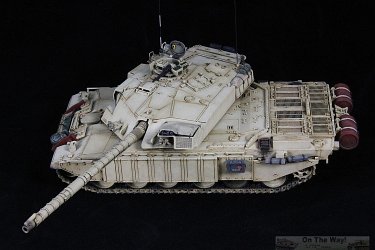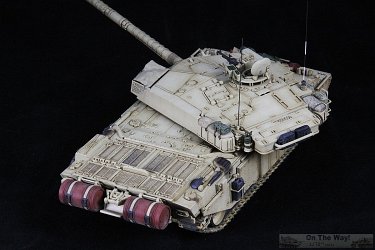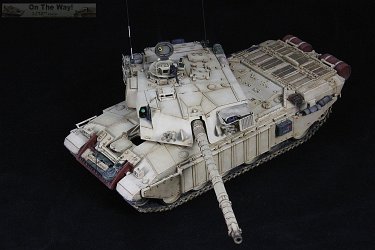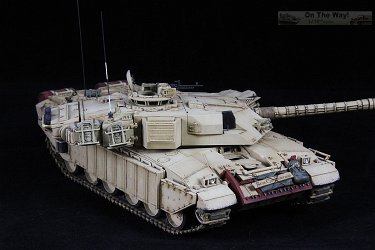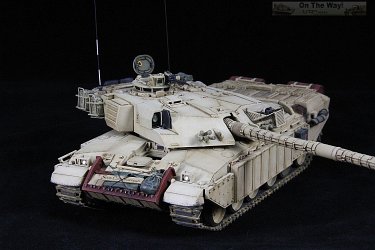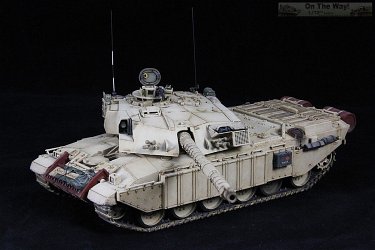 Revell AG products are available at