Panzer Grenadiers Dismounting 1939-45
Manufacturer: Preiser (72501)
By Faustnik.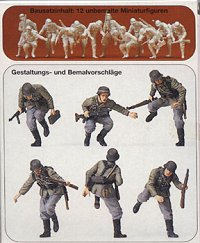 Description:
All pieces in a dark grey styrene plastic of high quality
2x 6 figures in multipose (Legs, torsos, arms and heads mostly in separate form) depicting infantryman from the 1939-1942 period (high marching boots, and M1936 uniform), but also useful for later periods.
2x sets of equipment.
Presented in a cardboard box, with pictures on the front of the figures in their intended "task", and a painting guide on the back, using their 1/24 line of figures.
Assembly instructions are inside the box, needing dismantling of it
Average Height foot to eye level (calculated) - 24mm
Average Shoulder width - 6,35mm
Evaluation:
Another excellent set in terms of moulding and sculpture. This is together with the German Tank crew and setting Panzer Grenadiers one of the most useful, as the combinations could be endless, with some though. The multipose approach is in this set taken almost to the limit, at least in this scale, so some care must be taken, so that any gaps should be carefully filled with putty.
I my opinion, some of the heads are a little small for the rest of the body, but this is my opinion.
Just imagining any group of soldiers or crew leaving their vehicle for the assault or in a hurry, to have a diorama.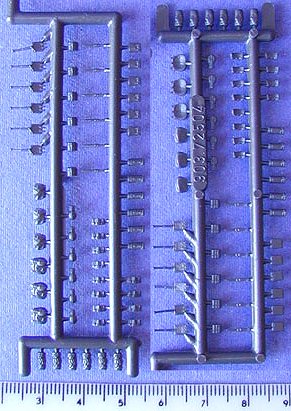 Overall a ranking of 9 out of 10.
---