"Maus" Porsche Type 205
Manufacturer: Planet Models (Kit No. MV011)
This kit is HUGE! As you can see from the photos, there is a very large number of parts (only a couple examples of the track pieces and bogie wheels are included in the photo). The main body is a single hollow upper piece, with a lower hull piece, and the turret is hollow also, thereby saving a lot of weight.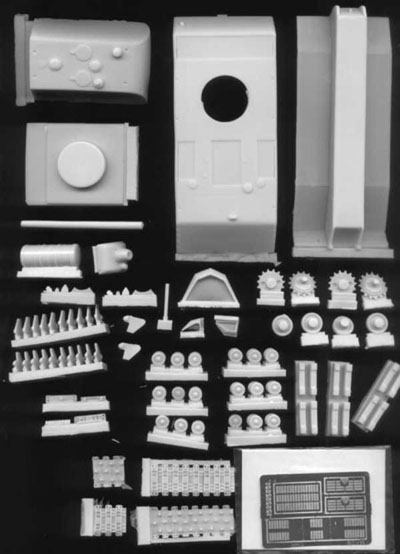 All of the parts are well-molded, and look to be easily removed from their sprues. Unfortunately, the hatches are molded closed. There is also very little exterior detail. The drawing on the box cover shows headlights, towhooks and other details, but none are included (I'm not sure if the real vehicles were outfitted with these accessories, but I think that they were). The engine deck screens are provided with etched brass parts.
The instructions are very good, with several well-laid out construction diagrams, and a drawing showing the painting scheme used by the prototypes. No decals are included.
Postscript: I have heard from a friend that newer versions of this kit in fact have solid hulls and turrets (as well as a couple of smaller detail differences). While this will greatly simplify construction, I wonder about the strength of the wheel assemblies to hold so much weight.
---