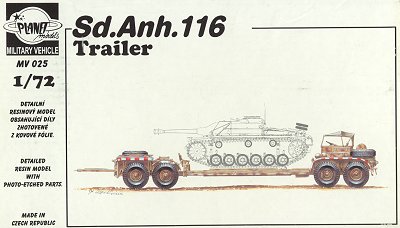 I've made the above scan a little large so you can see what this trailer is used for. Several months ago I got the Planet Sd.Kfz. 9 FAMO tractor, and this trailer was designed to work in conjunction with that kit. Although the instructions state that it was designed to haul the German Army's heaviest tanks, according to Allied-Axis Photo Journal Vol. 3 (which I highly recommend as a reference for this trailer, as well as the FAMO), the maximum capacity was the Panzer IV; the Panther and Tiger greatly exceeded the trailer's capacity.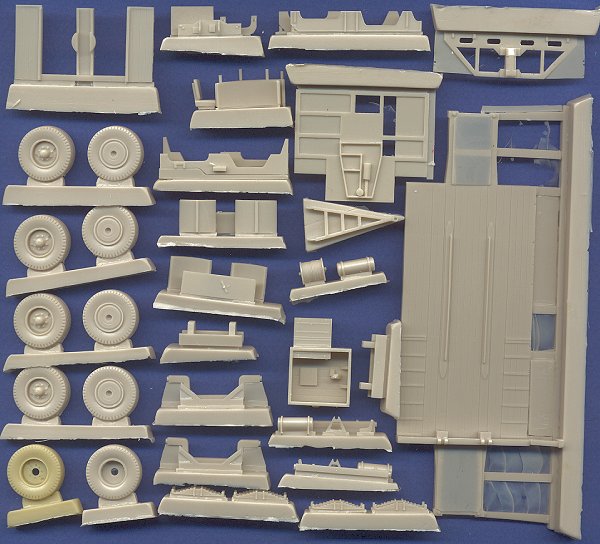 For being only a trailer, it is a fairly large and complex kit. It's really nice to see some attention being paid by the manufacturers to something other than the standard main battle tanks. Most of the parts are cast in resin, and are fully up to Planet's usually high quality standards. There are absolutely no air bubbles or other blemishes marring any of the parts in this kit. Many of the smaller parts are etched in metal, and are also very well done. About the only thing not included in the kit is the canvas cover for the operator's position, but that would best be replicated by hand anyway.
The instructions are some of the best I've seen. Planet has always been very good in this area. No decals are provided, but I'm not certain what markings these trailers would have carried anyway. Perhaps some white tactical symbols on the fenders? This is an awesome kit, and it will go well with not only the Planet FAMO, but also the forthcoming Revell kit as well.
Thank you very much to Smallscale.de for providing the review item.