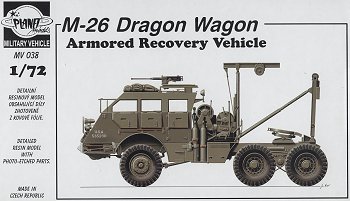 This model was announced a couple of years ago, and has been anxiously awaited by many modelers ever since. This is one of the most complex kits I've yet seen from Planet Models, and at first glance in the box, it looks mighty impressive.
Most of the body is provided in etched metal, with a mix of etched and resin parts making up the remainder of the kit. This is a highly complex vehicle, and the model is likewise very detailed. Construction of this puppy will take a while. Luckily, Planet has always provided very good instructions with their kits, and the directions in this one are some of the best they've yet done. It's obvious that some serious thought went into the development of this model.
No decals are included, and I wish that Planet would consider starting to include some with their kits, which they have never yet done.
For anyone considering tackling this beast, I highly recommend the Allied-Axis Photo Journal, Vol's. 3 and 5 for outstanding photo coverage of the M-26. I believe that Military Miniatures in Review has also released a volume on modeling armored recovery vehicles, including this one, though I've not seen that book in-hand.
Thank you very much to Smallscale.de for providing the review item.