Büssing NAG 4500 A
Manufacturer: Planet Models (Kit No. MV026)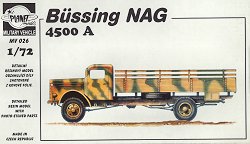 Thanks to Stephen Brezinski, I am now quite hooked on truck models. I never really cared much for them before he started sending in photos of all his really cool truck models, and now I am quite smitten with them. Too bad so few are available in plastic, though that seems to be changing for the better each year.
This kit is superb. For someone new to truck models, it is perfect. It would also be a good place to start for someone new to resin models, as it is quite a simple, though highly detailed, kit. The etched parts are few, which is fine, since some of them are useless (the tools). As always, Planet has included superb assembly instructions, though no decals.
I have no references on this truck, and it would be difficult to measure it prior to construction regardless, so I don't know about its size accuracy. Considering Planet's reputation for making very accurate models, I would assume the scale on this is correct, but that is only an assumption. It certainly is a gorgeous model, and I can highly recommend it.
---