This set is an interesting mix. Inside the package you get a dozen copies of the airtight metal case used to carry 12 complete rounds for the 3.7cm Pak (aka Pak 35/36) gun, plus a resin plug with 60 rounds cast as a combination of spent rounds and complete rounds. Also included is a set of large and small wood boxes. All parts are cast in dark grey resin. Detail is excellent. For example, the wood boxes have cast rope handles and petite metal latches.

When I originally wrote this preview, I thought there were no instructions. I was incorrect. There is definitely a small sheet with a list of contents plus painting and decal placement guides. The only construction required is the addition of the supplied resin strips for the cross braces on the bottom of the wood boxes. A nice touch with the set is the inclusion of decals in white and black for box markings, something rarely seen in these kinds of detail sets. Use the box top as the guide for their placement.

Let's look in detail at each of the components.

3.7cm Pak rounds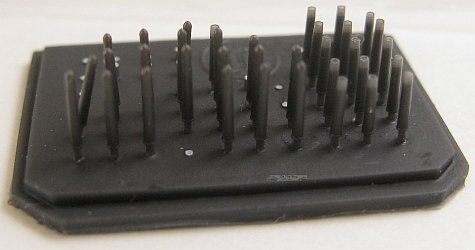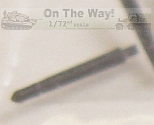 As mentioned above, this set has an assortment of 3.7cm Pak rounds. There are 33 complete and 21 spent rounds. Complete rounds appear to be 3.7cm Panzergranatepatrone. Spent rounds come with open mouths. Each is, to say the least, microscopic. I suspect most modellers will lose a few to the carpet monster while handling them. It is very difficult to distinguish each round from its resin pour stem, so one will need a very strong set of magnifiers to prevent cutting them too short. Painting wise, it would seem wisest to spray them your desired colour while they're still mounted on the pour plug, then remove them and touch up the bottom of the casing afterward.


Real
Measurement
1/72
scale
Kit
Measurement
Kit
Actual Scale
Complete Round
Length
353.5mm
4.9mm
4.81mm
1/73
Spent Round
Length
24mm
3.33mm
3.69mm
1/71
Diameter
51.5mm
0.72mm
0.69mm
1/74

Rob Haelterman adds: set 72047 "Ammo for German WWII Pak 36" contains three of the plates with rounds that are shown above, for a total of 99 complete rounds and 63 empty shells. No boxes are inlcuded in that set.


Airtight metal case for 3.7cm Pak rounds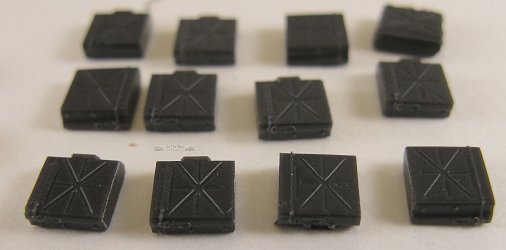 Twelve pieces. This case is a rare bird in 1/72 scale. I know of only one other that comes as an etched part in UM kit number 606 (3.7cm pak and 4.2cm Pak 41 set), which I found didn't assemble very well. On the other hand, these castings from JK Resin are superb, capturing the rhomboidal shape very well. Dimension wise they look to be a bit on the large side, but acceptable as far as I'm concerned. Use decal numbers 1 & 2 for this box.

According to [1], this case was also used for 8 cm Granatwerfer 34 mortar shells although with a different interior layout.


Real
Measurement
1/72
scale
Kit
Measurement
Kit
Actual Scale
Box Length
36cm
5mm
5.21mm
1/69
Box Width
38cm
5.3mm
6mm
1/63
Box Depth
13cm
1.8mm
2mm
1/65
Large wood box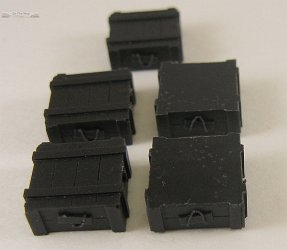 Five pieces. This box is an enigma to me. It looks like its a Patrh. (6331) 3,7 cm Pak box as found at reference [3], but the decals for this box are printed as Patrh. (4321) 3,7 cm Pak (Patrh. is an abbreviation of Patronenhülse, i.e. cartridge case). Thus, if one is to assume that this is a Patrh. 6331 box, then the decals are incorrect, but on the other hand, if it truly represents a Patrh. 4321 box, then I have no clue as to what a Patrh. 4321 is. None of my reference books nor any web searches shed light on the 4321 designation. Decal number 3 is used for this box.

Working with the assumption that JK Resin had intended this to be a Patrh.6331 box, I get the following measurements, making it almost exactly 1/72 scale.


Real
Measurement
1/72
scale
Kit
Measurement
Kit
Actual Scale
Box Length
76cm
10.55mm
10.9mm
1/70
Box Width
76cm
10.55mm
10.56mm
1/72
Box Depth
34cm
4.7mm
4.6mm
1/72
Small wood box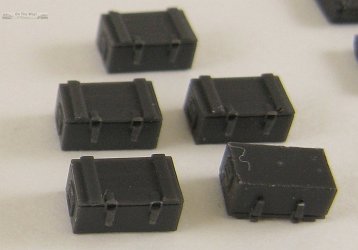 Five pieces. If one is to believe the box top photo illustrating the decals assigned to this box (decals 4 or 5 in combination with decals 6 or 7), then this box is one that contains separate projectiles, i.e. the business end of the 3.7cm Pak's ammunition. I find this rather a head scratcher. That would mean this box, in combination with the large box for the cartridge cases, suggest the ammo was shipped in two parts, meaning the rounds would need to be assembled in situ by the crew, not unlike for very large artillery rounds. I have found nothing to support this possibility.


Real
Measurement
1/72
scale
Kit
Measurement
Kit
Actual Scale
Box Length
48cm
6.67mm
7.1mm
1/67
Box Width
28.5cm
3.96mm
4.5mm
1/64
Box Depth
24cm
3.33mm
3.6mm
1/71


Conclusion

This set is excellently cast. Scale varies somewhat across the contents, roughly 7-8 percent in places, though not enough that it is unduly noticeable. The metal ammo case and ammunition is perfect for dioramas or to just display with a completed gun. Overall total value is somewhat limited because of the two wood boxes. They would be of value perhaps in a factory setting, not so much with a gun in the field, where it is highly unlikely that active duty guns would have their ammunition come in separate boxes comprising projectiles and empty cartridges.

References

[1] wehrmachts.kisten.free.fr (metal container)
[2] wehrmachts.kisten.free.fr (small wood container for 3.7cm Pak Pzgr.40 projectiles)
[3] wehrmachts.kisten.free.fr (large wood container for 3.7cm Pak shell casings)
[4] German Artillery of World War Two, Ian Hogg, Frontline Books, London 1997 ISBN: 978-1-84832-725-2
[5] Handbook of Enemy Ammunition, Pamphlet 7, War Office London June 1943
[6] Waffen Revue Nr. 65, II Quartal 1987, Journal-Verlag Schwend, Schwäbisch Hall 1987
[7] Kriegsprache: Glossary of World War II German Military -and Period Specific- Words, Phrases and Abbreviations for Historians, Researchers and Hobbyists, Thomas L. Houlihan, III (ed.), Maps at War, Lake Orion 2009, ISBN: 978-0-578-01849-2


Preview sample supplied by JK Resin.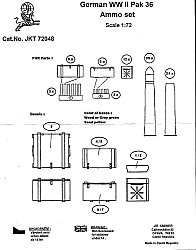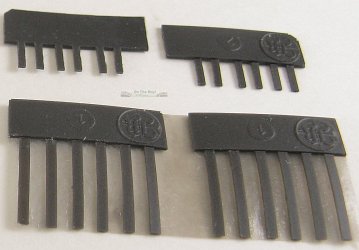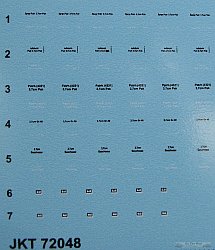 JK Resin products are available at