Although I am a Sherman-fanatic, I always get excited at the prospect of a new Allied kit, even if it's not a Sherman. The M-29 was a fairly ubiquitous vehicle in the US armory, but it's not exactly a hot modeling subject. This is the first kit released of this vehicle, which came out several years ago, but I only recently bought it. Extratech now also has two Weasels in its inventory, but it is possible that they are the same as the Hauler kits, as Hauler and Extratech have collaborated in the past.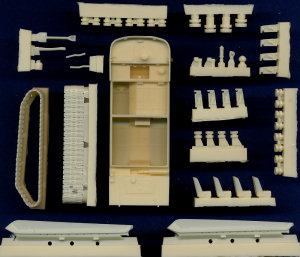 As one can see, this is a multimedia kit, with a fair number of very finely-cast resin parts for the main body, wheels, tracks, and other large details. The master parts are expertly made, with all details spot-on for accuracy, based on photos I've seen of this vehicle. The tracks are amazingly well done, with outstanding detail on both inner and outer surfaces. Having them pre-molded in the appropriate shape is also a benefit, as we won't have to deal with dozens of tiny individual links. Scale is dead-on for 1/72nd, based on the drawings in Bradford's book of American AFV plans. About the only thing missing is the canvas canopy, but something like that it probably best replicated by scratch anyway.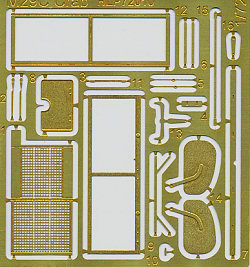 The etched parts are produced by the same folks who do Extratech's etched brass, and are done to the same high quality. Nothing wasted here; no pioneer tools or other 3-dimensional items. I don't recall, but I think there is also a small piece of clear acetate to use as the windshield.

Unusual for most resin kits (though not Extratech's), this kit comes with an excellent selection of decals. There are six very simple marking schemes here, though none of the units are identified in the instructions, which are otherwise very well drawn.
This is a very neat little kit.