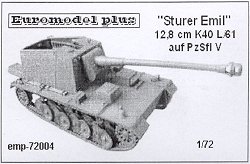 The official name of this vehicle is 12.8 cm K40 /61 auf PzSfl V, which is quite a mouthful, so I'll continue to refer to it by its nickname "Sturer Emil".
Euromodel Plus is the latest in the ever increasing numbers of European resin model makers. They are located in Poland, and this kit bears a striking resemblence to the models produced by ARMO, so I suspect that the same master model makers are being used by this company as well. That's a good thing, because I have always been a big fan of the ARMO kits.
The kit is primarily resin with a small fret of ten photoetched brass pieces. Here are scans of all the resin bits:
I am very impressed by the overall quality of this kit. The master parts are sculpted with great precision and detail, and the molding is also very well accomplished. The majority of the parts are related to the complex chassis, but thankfully the instructions are detailed enough to clarify its construction. The tracks are very nicely detailed, and will require the "heat and bend" technique for their installation. Interior detail is composed mainly of the giant cannon, with most of the interior details molded onto the insides of the superstructure walls: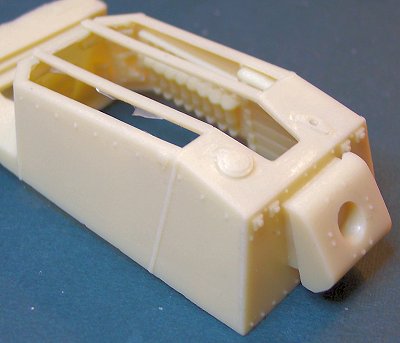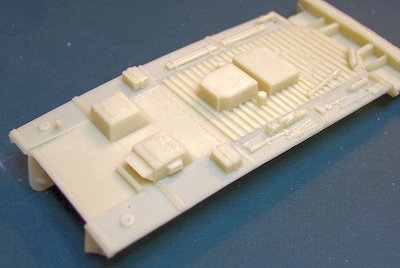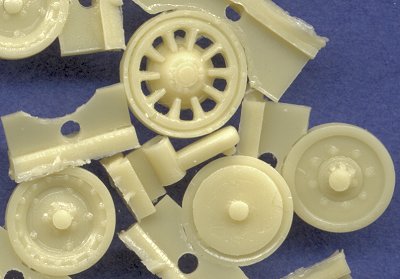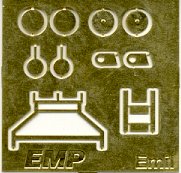 As expected, reference material for this tank is scarce, but I've been able to find a dozen or so photographs from my books and off the internet. From what I can see, accuracy seems to be spot on, which should be expected, because I believe that the model makers were able to inspect the surviving vehicle in the Kubinka Tank Museum.
The instructions are also very reminiscent of ARMO's, which means that they are adequate for the job, but additional photos of the real item will be helpful. No marking information or decals are included.
Euromodels seem to be focusing their efforts so far on unusual and experimental German vehicles. I hope these prove successful for them, so that they can expand their range to include more mainstream items as well. This is an excellent first entry into the marketplace, and I look forward to building it.
Thank you very much to Euromodel Plus for providing the review kit.