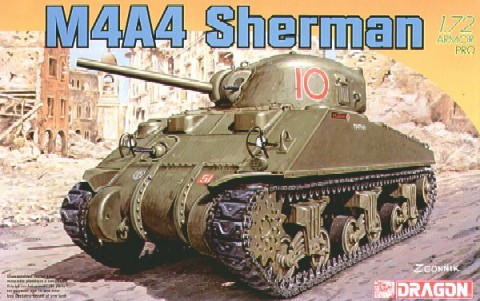 The kit uses the M4A4 hull which is longer than the standard M4 hull and it is nicely replicated with the exception of the moulded on tools ( with the exception of the spade, ) The other oddity is the sand shield attachment points have lugs instead of holes, I find it hard to confirm whether this is correct or not and I suspect that it isn't. There is enough PE refinement in the kit to make this into a super model although you will need very good eyesight for some of the pieces, I am sure that Dragon are trying to find out how small they can go !Also included but not used are two .50 cal Browning's although there are only firing handles for one.
The kit consists of a new lengthened lower hull
A new lengthened upper hull
A side view showing the sand shield attachment points
This is the first M4 turret released by Dragon that doesn't have the loaders hatch and opens the way for a whole range of other Mk's, the kit has 3 gun shields and the .30 cal gun barrel
The sprue for the bolted transmission housing and rear exhausts, added hull armour and large stowage bin, you can see how my example has been short shot in the injection process rendering certain parts useless. Dragon care did come to the rescue very promtly and sent a complete replacement sprue.
This is mainly a sprue of spares with only the light brackets ( if you don't wish to use the PE ones) lights and some of the lifting eyes being used.
The break down of the suspension is the same as the other Sherman kits
The correct steel cleat type tracks are included in the usual DS styrene.
The PE fret is exactly the same as the Firefly PE (which is shown here) although it is labeled as M4A4
Decals are provided for 5 vehicles, 1 British, 1 Polish, 1 Free French and 2 Chinese vehicles with the famous eyes. Incidentally, these are the same as in the Bestfong decal sheet.
Timothy Lau points out the following:
Decals "21" and "22" aren't mentioned in the instructions. They are for the Taiwanese markings and appear to be the ears of the "mouse".
Bestfong is correct that the top of the vehicle is yellow and that the real tanks had applique armor. Dragon is wrong in this respect.
Note that the vehicles are not symmetrically marked on both sides (see here and here).
It was eneviatable that dragon would release this version after the release of the firefly, Dragon Shermans are fast becoming the only Shermans to have and seem to be getting more and more complex with each new release.
References
M4 Sherman Vol II Militaria
The Universal Tank, British Armour in the Second World War part 2 by David Fletcher