Sd.Kfz. 184 Ferdinand
Manufacturer: Dragon Models (Kit No. 7202)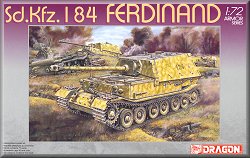 So why did I buy this model after my scathing review of the earlier Elefant kit? Simply because the Squadron Mail Order website stated that unlike the Elefant, this kit comes with individual link tracks. Well, Squadron was wrong.
The sprue on the left above is mostly the same as that included with the Elefant kit, but the portion outlined in red is new to the Ferdinand (also some parts unique to the Elefant have been removed). As with the Elefant, the detail here is first rate, and all of the dimensions are completely accurate to 1/72nd scale. The crew hatches are all molded open. Even the rear loading hatch is open. It is correct to not have zimmerit on this kit, because unlike the Elefant, no Ferdinands had this coating.

The hull is molded as a single piece, and considering the superb detail it exhibits, it's obvious that a four (or more)-part mold was used to make it. The wheel suspension springs look amazing. Even the sprue of other kit parts was made with a multi-part mold, which allows for detail on the sides of some of the parts, not only the tops and bottoms (for example, the tip of the gun barrel is already open, and does not need to be drilled).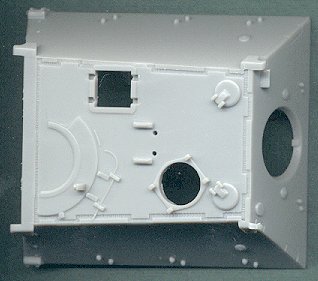 The bolt detail is great. Lift hooks are molded onto the upper superstructure corners, and though they are a bit thick, they can easily be sanded to the appropriate thickness. I'm not real happy with the gunner's periscope, which is molded onto the superstructure roof, with no opening in the covering plate. The hull bottom is completely detailed.
The wheels are highly detailed, and in perfect scale. Even the front and rear sprockets are different, a detail which ESCI overlooked in their kit.
There are still some negatives with this kit: first of all, there is no treadplate pattern on the fenders. As before, this doesn't bother me all that much, considering how fine of a stipple-pattern it really is, but it would have been nice to see it regardless. A major error is that the engine deck has not been revised from the Elefant kit, when in fact, they were very different. There are also no tow cables included. And of course the tracks are the same as the Elefant kit.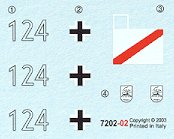 Once again, markings are included for only a single vehicle of the 653rd Heavy Panzerjäger Battalion, this time fighting in its most famous battle, at Kursk in 1943. The decals are thin and sharply printed, though slightly out of register.
From now on, I am going to refrain from making generic recommendations about models. I have come to realize that saying a certain model is recommended or not, is really quite arbitrary, and certainly open to personal opinion. Hence, modelers should look at the scans, and make up their own minds.
References:
Achtung Panzer No. 6 Panzerkampfwagen Tiger, by Bitoh (ed)
Panzer Tracts No. 9 Jagdpanzer, By Jentz and Doyle
Museum Ordnance Special No. 9, Elefant - Panzerjäger Tiger (P), by Jentz and McKaughan
---