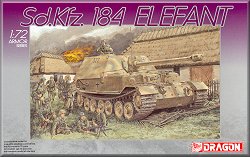 Dragon sort of hit the small scale scene by storm, by announcing the release of eight kits in almost as many weeks. So far, the only one to be released to the American market is the Elefant tank destroyer. Dragon claims that they are going to bring us ". . . the most accurate models ever produced in 1/72nd scale." While this model is, indeed, quite accurate, it is also one of the most disappointing kits I have seen in a long time.
First, the good stuff. This kit is far and away better than the old ESCI kit, which is now available again from Italeri. The detail is first rate, and all of the dimensions are completely accurate to 1/72nd scale. The crew hatches are all molded open, with the notable exception of the commander's hatch. Even the rear loading hatch is open.

The hull is molded as a single piece, and considering the superb detail it exhibits, it's obvious that a four (or more)-part mold was used to make it. The wheel suspension springs look amazing. Even the sprue of other kit parts was made with a multi-part mold, which allows for detail on the sides of some of the parts, not only the tops and bottoms (the tip of the gun barrel is even open, and does not need to be drilled).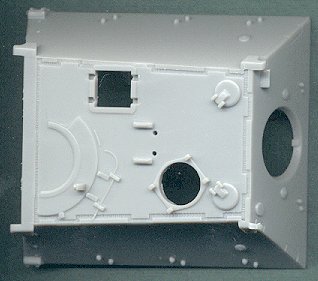 The bolt detail is great. Lift hooks are molded onto the upper superstructure corners, and though they are a bit thick, they can easily be sanded to the appropriate thickness. I'm not real happy with the gunner's periscope, which is molded onto the superstructure roof, with no opening in the covering plate. The hull bottom is also completely detailed.
The wheels are highly detailed, and in perfect scale. The front and rear sprockets are different, a detail which ESCI overlooked in their kit.
And now the negatives: first of all, there is no treadplate pattern on the fenders. To be honest, this doesn't bother me all that much, considering how fine of a stipple-pattern it really is, but it would have been nice to see it regardless. There is a hammer molded onto the left hull side. This is only correct for early versions of the Ferdinand, and it needs to be relocated to the rear superstructure wall. There is no zimmerit pattern on the hull, which needs to be added by the modeler. All Elefants had zimmerit coating appplied.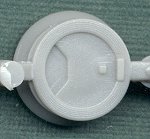 I am also disappointed in the commander's cupola. No open hatch; no vision blocks; no clearly defined guard rail. I don't know what their intent with this piece was, but they obviously failed (unless of course, their intent was to make an unrealistic, poorly-detailed and undefined lump of plastic, in which case, they succeeded admirably).
And finally, the real shock, the tracks:
Why, why, why, why, why, WHY did Dragon take an absolutely gorgeous kit, and completely ruin it with tracks like this? Yes, these tracks look nice. They are highly detailed, with what looks to be an accurate track pattern. But I am sorry to say that they also look HORRIBLE on the completed model. The color painting guide in the instruction sheet is composed of four view photos of a completed model, and it is obvious how crappy the tracks look when the model is finished. I would really like to know what market Dragon is aiming for with this kit. Children? No, the kit is too complex for young children. Wargamers? Then why go through all the effort of making this the "most accurate" and detailed kit ever produced? Why not go the route that Hät did? Everything about this kit makes it seem like they are targeting modelers who want to make an extremely accurate and highly detailed static display model, in which case, why did they blow it with the tracks? Yes, I am being very harsh with my criticism, and this is just my own opinion; perhaps there are others out there who like this style of track, in which case you will be very happy with this model.
Markings are included for one vehicle of the 653rd Heavy Panzerjäger Battalion in Russia, 1944. I was confused by this, because I thought this unit was in Italy in 1944, not Russia, but I was informed by Robert Lockie that only the 1st company of the Battalion was transferred to Italy, and the remainder of the unit stayed in Russia. Thanks Robert. The decals look very good, and are well printed.
Basically, I have no idea if I should recommend this kit or not. Personally, I'm not going to build it until there is an alternative for the tracks, but others may not see this as a problem. Based on this one kit, I am reluctant to buy other models by this company.
Dragon, if you are reading this, all you need to do is include hard styrene, link-and-length tracks, and then you will have a real winner here.
References:
Achtung Panzer No. 6 Panzerkampfwagen Tiger, by Bitoh (ed)
Panzer Tracts No. 9 Jagdpanzer, By Jentz and Doyle
Museum Ordnance Special No. 9, Elefant - Panzerjäger Tiger (P), by Jentz and McKaughan