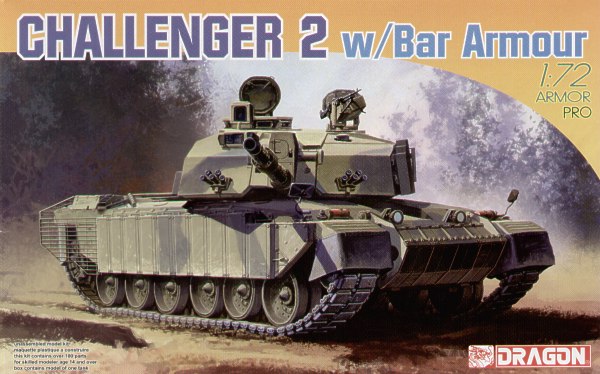 Yet another Challenger 2 release from Dragon, this time with the Bar Armour seen mainly in Iraq but also at various military vehicle get together's around the UK, It was nice that Dragon made a new tooling for the previously released Challenger 2 with Dozer blade, personally though I would have preferred them to correct the errors in the basic kit itself first, a list of those errors can be found Here
The kit is basically the he same as the KFOR kit previously previewed Here with the addition of the following sprues and PE frets.
The additional turret armour comes in left and right hand parts.
Because the side skirt armour layout is different to the Iraq version, the top sprue contains the extra armour blocks whilst the bottom sprue contains the new side armour without the characteristic skirts seen on the earlier vehicles, the sprue contains also the frontal armour blocks as well as the extended front and rear mud flaps. The side armour is designed in the kit to fit over the moulded on sideskirts, for accuracy the side skirts should be removed at least on the forward section as they can still be seen under the front portion.
The tracks now come in the glueable DS plastic as do the tow ropes, the fitting of the tow ropes is still wrong at the rear end which should fit on top of the side armour and not to the vehicle side as depicted in the kit.
The main difference in the kit is the inclusion of the bar armour for the rear hull and rear of the turret, whilst it is not 100% correct being too flat in certain places, unlike the Warrior armour the Challengers is made up more of bars than from slats so in this sense it works fairly well in this scale and certainly gives the right impression, whether it will fit over a corrected turret we will have to see later.
Also included in the kit is another PE fret containing parts for the engine deck and surprisingly also for some of the access plates along the hull, although the instructions show them as being fitted to the front, they will come in handy if you ever want to correct the hull, as you can now remove the detail and not have to bother about cutting the rear hull around them. Parts #1 on the fret require you to remove the plastic part, which is a bit confusing as the real thing is a substantial part and to remove the perfectly adequate plastic and replace it with a wafer thin piece of PE!??
The decals although well done are a bit baffling as they depict a vehicle from the Royal Dragoon Guards in Poland in 2006 and not a vehicle currently serving in Iraq, which Ithought would have been a better option in my personal opinion.
References
Challenger 1&2 Concord mini colour by Walter Boehm and Peter Siebert
Challenger Squadron Europa Militaria by Simon Dunston
Challenger 2 Article Tankette 32/6 and 35/6 by A. Crutchley
Various Challenger 2 article that have appeared in Military Modelling over the years