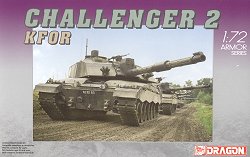 Although this kit is earlier in the list than the Iraq version, it was actually released much later. Those of you who have seen the Iraq 2003 kit, you will know what to expect here.
This kit is identical to the earlier kit, with the exception that it does not include the small sprue of add-on armor that the earlier kit contains. I guess that Dragon is releasing models of modern AFVs only in documented markings and settings. And since the KFOR Challenger 2s did not sport the add-on armor, this kit does not include it. Otherwise, it would have been nice to have the option to build the up-armored tank in hypothetical combat situations in the future, but we'll have to rely on aftermarket decal makers to give us additional markings for the up-armored version of this kit.
Overall this is a very nice kit, though with one apparent error in accuracy. There have been many complaints about the tracks in the kit being substantially short. According to Simon Barnes, who is more knowldgeable about this tank than I am, the tracks are actually correct. The problem is that the hull is a little too long. I know that doesn't really help those of us who aren't used to performing major surgery on a model kit, but there you have it. Hopefully Simon will soon write up an article on precisely how to make the correction in the hull length.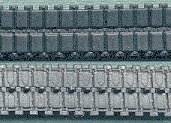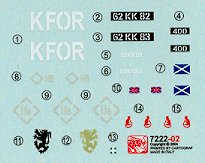 Markings are included for two schemes, the first being for a tank with the Royal Scots Dragoon Guards during the KFOR Operation, and the second is also with the RSDG, during the Ulan Eagle exercise in 1999.