T-70 Light Tank
Manufacturer: Czech Kits (Kit No. 2011)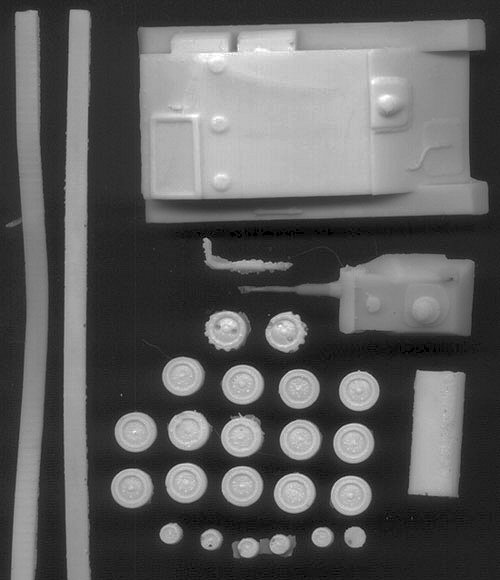 This is not a very good kit, primarily because of poor resin, and poor casting quality. It is difficult to determine the quality of the masters for this kit, but I suspect that they were pretty good. From my limited references for this vehicle (no scale plans) the kit appears to be accurate in size and shape.
The kit is composed of 28 parts, all pictured to the left. The wheels, hull and turret are obvious, but I am unsure of what the other two parts represent. I believe that the bent one is a muffler, but the other part, which is curved, like the front hull, remains a mystery to me.
There is very little surface detail, and the detail that is present, is very flat, and lifeless. There are numerous air bubbles throughout, especially on the bogie wheels. As you can see in the photo, the sprocket wheels are very poor. The surface texture of the resin is very rough and will require substantial smoothing.
Do you see the faint track link lines on the strips of resin track? Well, those lines are easier to see in this scan then they are up close. These "tracks" are useless. On the positive side, the wheels look very well detailed (on the outside surfaces only). I also like how Czech Kits place wires down the length of the cannon barrel to prevent warping. Too bad other resin manufacturers do not do this.
No instructions are included, nor are any decals. I bought a Czech Kits IS-2 many years ago, and that kit at least came with some side and top view drawings, but this current kit, which I bought about a year ago, comes with nothing. If I can verify that the shape and dimensions of the kit are accurate, then this would be an excellent basis for a scratch-build project.
---