This set covers a number of street signs in German, French and Dutch, without indicating to which area they would best be suited, as I can imagine that the design varied from country to country and, perhaps, even from region to region. (The three languages present on this sheet might, for instance work for France, Belgium, the Netherlands, Germany and Austria.)
Looking at the decals themselves, it is immediately clear that they are printed to a very high resolution; all the text is easily readable. The only thing that gives them away as not being printed by the big decal companies is that they are printed on continuous film. Being laserjet printed, it is also wise to protect them before weathering starts on the model.
Something very peculiar to these decals (and actually to all of the latest releases by Braille Strike is that the multi-color decals are printed "upside down". In other words, the colors are printed first and the white at the end. This means that you have to flip the decals over when putting them on the vehicle (which is easy) and that it is difficult to judge the quality of the multi-color decals while still on the sheet, as the (translucent) white creates a sort of haze over the rest of the colors. I hope to be able to use them soon and tell our readers how this turns out.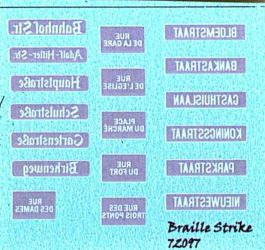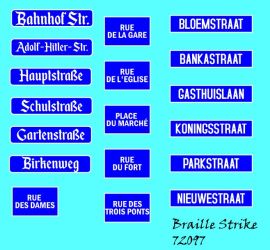 My scanner always has trouble scanning white decals on a blue background, that's why the image from the Braille Strike website has been included on the right.
Note that the picture on the right shows how the color decals should appear once flipped over, while the picture on the left shows how they appear on the sheet.
Conclusion
Braille Scale continues to expand its series of well-printed decals. This set will enhance a diorama in the ETO, but after having expected the Normandy Road Sign set, I had hoped to find some photographic references for this set as well.
Review sample kindly provided by Braille Strike.