LeClerc RT5 - Configuration Kosovo
Manufacturer: ADV Mini (Kit No. 72020)
Here is another amazing kit from Ludovic Bertrand and ADV Mini. I have often lamented the lack of a good Leclerc kit in any medium (the Galaxy plastic kit is poor), and now my waiting is over. No other resin company should even bother to try, because this one will be hard to beat. Perhaps if Revell were to make it in plastic, they could do just as good, but I won't hold my breath waiting for that to happen.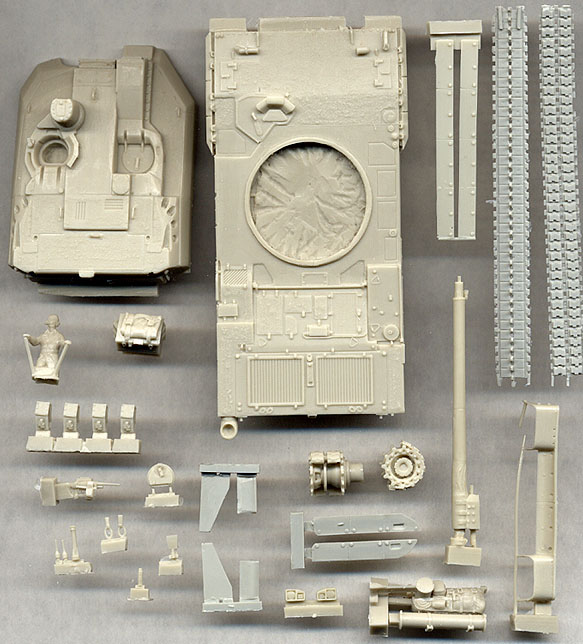 As is typical for the ADV Mini kits, this one is molded extremely well. After careful inspection of the parts, I only found two tiny air bubbles to fix. There is no flash on any of the parts, and the excess resin from the mold plugs will be simple to remove. No large blocks of resin on the hull or turret. The detail is exceptionally well done, which I hope can be seen in the scan above.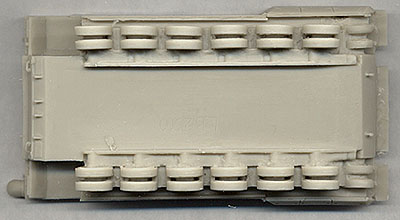 The wheels are pre-attached to the hull, along with the armored side skirts. This will greatly simplify the construction and attachment of the tracks. There are two lengths of track, which attach to the bottom of the wheels. The sprocket wheels already have the track links wrapped around them. This is an excellent way of dealing with tracks for resin tanks, which I have seen exhibited by only a couple of companies.

The hand holds and hatch handles are even molded on, so I won't need to add them with wire. The fact that they are all intact with no flash, is a good indicator of the quality of casting.

The instructions are very nice; better than the other two early ADV kits which I own. There is a great painting guide, and decals are also included for a single vehicle, stationed in Kosovo. Normally, I would like more marking options, but this is one of the very few resin kits which actually comes with any decals at all, so I won't complain. All in all, this is one of the best resin tank kits I have ever seen, and I will be building it very soon (after the Sd.Kfz. 233).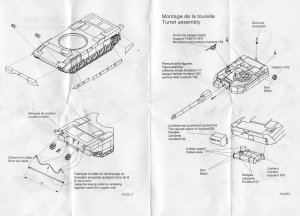 ---