A brief history

This gun was a hybrid of the 12.8cm Pak 44 gun (also designated the 12.8cm Pak 80 [9]), the main armament on the Jagdtiger, now mounted on the ex-Russian 152mm howitzer model 1937 carriage. According to [6], "Equipment numbered in the 8x range were temporary items usually issued in small numbers and not regarded as standard issue service weapons.", thus the K-81 gun series (which included this gun as well as the 12.8cm K81/1 built on the ex-French 155mm GPF-T carriage) was not built in any significant numbers, so few examples would have reached fighting units by the end of hostilities.

The kit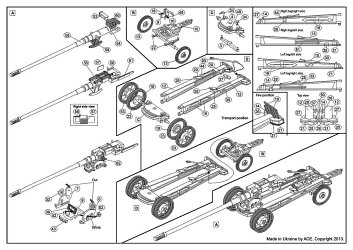 This is a prime example of a limited production Ace kit. Inside the flimsy, top opening box, there are five sprues containing 90 parts molded in a medium grey styrene like plastic. This kit traces its roots back to their 152mm ML-20 howitzer (kit no. 72227), sharing most of the same sprues with additional sprues containing parts for the 12.8cm K-81 gun. In my sample, parts were extremely crude, exhibiting a plethora of seams, flash, mold misalignment and generally soft detail. Sink marks were rife, especially on the larger pieces such as the trail legs. The barrel was particularly bad with two large voids and one significant sink mark (see below).



Based on previous experiences with older Ace kits I anticipated I'd have to replace the barrel, so I obtained a turned aluminum item from Aber (no. 72 L-19) designed for the Jagdtiger, but useful for this towed gun as well. Improved muzzle brakes are available from Format 72 or RB Model.

Instructions are the usual exploded views and somewhat vague in places. Construction covers four steps. No decals are included. A painting guide suggests a single scheme sporting a panzer yellow barrel, with panzer yellow over Russian green on the carriage and mount, sometime in 1945. With the lack of really good photographic evidence the suggested scheme is entirely possible, as would overall panzer yellow with or without green or brown patches. In reality you could paint it anything valid for the late war time period and possible locations where it was used.

Somewhat unusual for Ace, the instructions only illustrate building the gun in travel position. There is no direction provided for those modellers desiring to construct the gun in firing position.

The build

Before I continue, a word about Ace's limited run kits based on observations from building quite a few over the years. It appears to me that there have been at least three production releases of Ace's earlier kits. Those done in white plastic have usually been the best quality wise, with fewer flaws, and appear to be the initial release. Next best are those kits done in light blue-grey plastic. They are not quite as well molded as the white plastic versions, but still usable, and are possibly the second run. Those molded in a medium grey plastic, tend to be inferior and exhibit numerous, and quite often serious flaws. So my guess is the medium grey kits were produced with molds approaching the end of their useful life.

As mentioned above, my kit was far from its best. Fortunately I had purchased a copy of Ace's 152mm ML-20 for a pittance at a previous IPMS USA Nationals which was molded in white and in much better condition. Thus it became a no-brainer to use the carriage and mount from that kit along with the relevant pieces from the K-81 kit. If not for the ML-20 kit in my stash, this K-81 gun would probably have been binned after removing anything useful.

Now for some comments regarding the kit's accuracy. Like all other manufacturers, regardless of scale, the ML-20 carriage is depicted in its stock form. Unfortunately, this isn't supported by period photographs.

1. To start, the kit's spades are completely wrong. The Germans modified them as part of their conversion to the K-81. As you can see in the reference photos, the spades were increased in size by adding extensions to the outside and rear directly onto the original Russian versions, supported with a set of gussets (see below).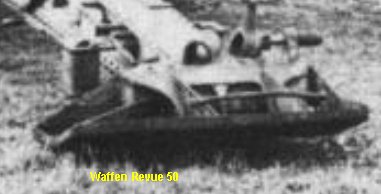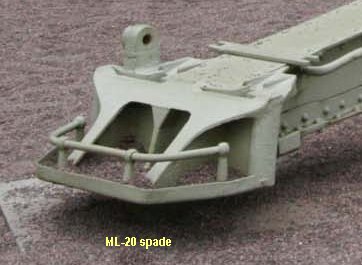 I could find no exact layout showing the modifications in detail. The diagram below is my "educated guess" for their layout, viewed from above.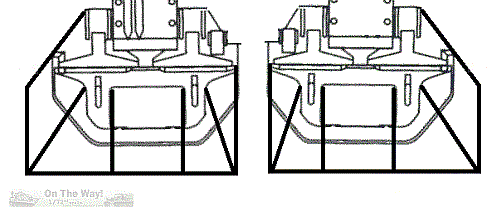 2. Moving forward along the trail legs, additional modifications are needed. There is some sort of structure, whose purpose escapes me, found on both sides of the trail that aren't included in the kit (yellow arrows below). Again I used an "educated guess" in adding them. Also absent is a tube most likely used to insert a pole for manually laying the gun (red arrows below).






3. Ace missed the small triangular like spike on the under side of each spade (see Trumpeter 1/35 instructions below for its configuration as well as the photos from Waffen Revue #50). These can be ignored should the model be anchored to the earth in a diorama.



Another detail missed is the pair of bars crossing the right trail near the spade (red arrows below).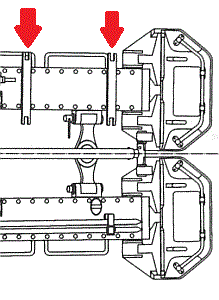 4. Ace usually includes guidance regarding placement of grab handles something not done with this kit. A pair is needed on each leg, located on the outside face and close to the spade. For those wishing to build the gun in firing position, the towing eye should be mounted on the left trail.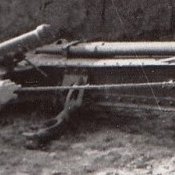 Below, you can see my attempt at addressing all of the above detailing points. After all that, what I can say for sure is that my changes, though pretty much guesswork, are more in line with what you see in the reference photos, versus the completely incorrect offering from Ace. As to how close they are to the actual gun, we'll probably never know.



(upper side)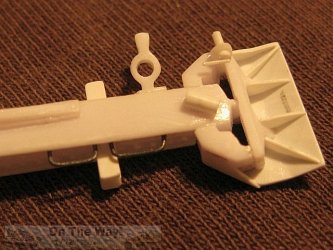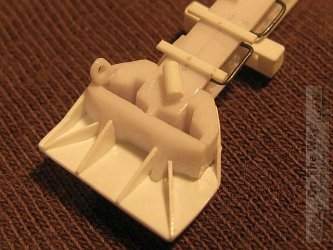 (under side)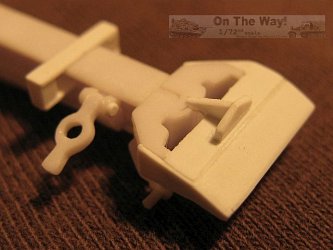 Now on to other items to address.

5. The right side of the mount is missing the linkage running from the aiming wheel (Trumpeter parts A26 & C2). I added this as well as the gear box (Trumpeter parts B10 & B13) and brace (Trumpeter part C3) because the open area between the sides is very exposed (see red arrows on Trumpeter 1/35 ML-20 instruction sheet excerpt below).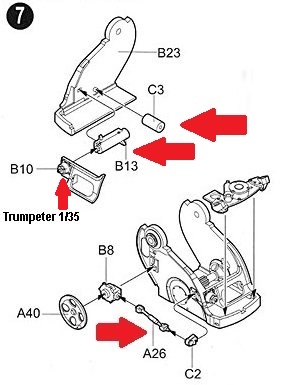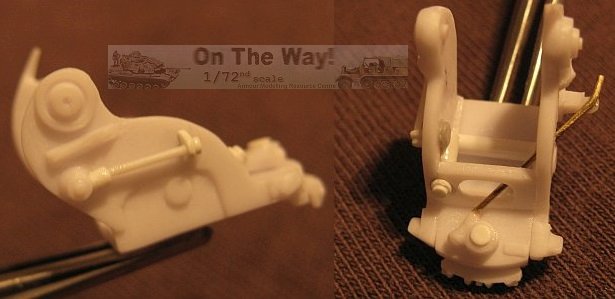 6. There are a set of holes that can be drilled into the face of part 4.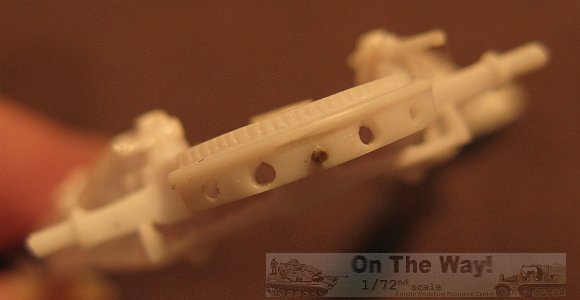 7. There are a set of holes that can be drilled into the rear of part 4.



8. Talented 3D designer Will Alcott provided me with replacement muzzle brake and wheels. Both really improve the look of the finished product.

The end result

I decided that this sucker was going to look completely different from all the grey, grey/white, yellow, yellow/white and yellow/brown/green legion sitting in my display case. So what does this represent? Well, it's a gun situated in a factory, minus its sights, cleaning and aiming poles, and wearing red oxide primer on it's carriage and mount, and sporting a panzer yellow barrel taken from a knocked out Jagdtiger. It may look gaudy, some might consider it a little bit Panzer '46, but it sure does stand out in my display cabinet.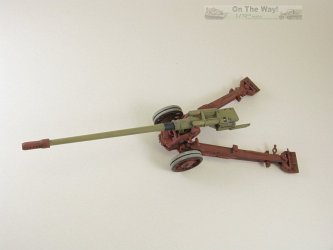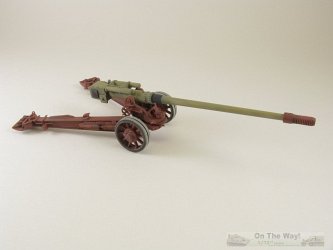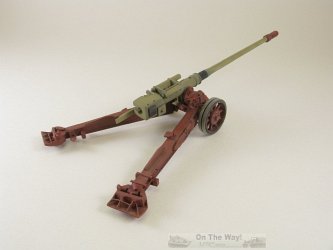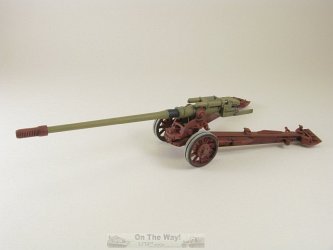 Conclusion

Definitely one of Ace's poorest efforts available from its early catalogue. Anyone wishing to build something presentable should be prepared to spend a good deal of time scratch building, along with a large batch of elbow grease, topped off with a large helping of perseverance. A replacement barrel and muzzle brake are strongly recommended as well.

References

[1] Waffen Revue Nr. 50: III Quartal 1983, Journal-Verlag Schwende, p. 7963-7994
[2] Antitank Artillery of the Wehrmacht 1939-45, Maxim Kolomiets, MK Strategy, Moscow, Russia 2006 ISBN: 5-901266-01-3
[3] Wydawnictwo Militaria 258: Panzerabwehr Artillerie, Maxim Kolomiets, Wydawnictwo Militaria, 2006 ISBN: 83-7219-258-8
[4] Wydawnictwo Militaria 392: Panzerabwehr Artillerie, Maxim Kolomiets, Wydawnictwo Militaria, 2013 ISBN: 9788372193926 (a slightly modified reprint of [3])
[5] axisafvs.blogspot.com
[6] wikipedia
[7] Ace
[8] primeportal (152mm ML-20 Gun-Howitzer Mod.1937 Postwar Modernization Walk Around)
[9] Encyclopedia of German Tanks of World War Two: A Complete Illustrated Directory of German Battle Tanks, Armoured Cars, Self-Propelled Guns and Semi-tracked Vehicles, 1933-1945, Peter Chamberlain & Hilary L. Doyle, Arms & Armour Press, London 1993 ISBN: 1-85409-214-6


Review sample purchased by the author.

Ace products are available at