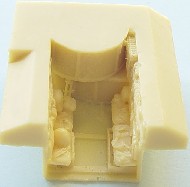 Cast as a solid resin block with all the detail in place, designed to drop into place in the Revell kit, it can also be used with the CMSC Resin detail sets with the back door open, to this end also included is the hydrolic bar for power opening and closing of the door. Although it is not 100% correct and has a few faults with it, once in place with either the top hatches or the back door open, it does look the business. The faults include: -
1 Wrong shaped turret basket
2 the troop compartment is too narrow (although this can not be helped without major surgery to the Revell hull)
3 The left hand side sponson arrangement is wrong and doesn't show the inside of the NBC pack which sits there.
The plus points are, that all the seatbelts are moulded in place, the seats are decorated with various items.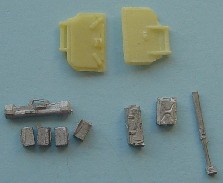 Also included are a new set of top hatches, the hydrolic bar for the door, Ammo boxes, water cans and a LAW 80.
Although not 100% correct it will produce something different when fitted and used with either the provided hatches or the CMSC door.
References
Concord Warrior by Carl Schulze
Warrior company by Simon Dunston
Osprey Vanguard Warrior Mechanised combat vehicle 1987-1994 by Christopher Foss and Peter Sarson
Various pictures from the Web