Brief History

The Ordnance QF 2pdr gun was the primary anti-tank weapon in British service at the start of World War Two and was a contemporary of the German 3.7cm Pak anti-tank gun, though possessing a slightly better performance. Some examples were also in service with the Belgians. During the French campaign it served well where many were captured at Dunkirk. Those captured by German forces were designated either 4cm Pak 192(e) (British guns) or 4cm Pak 154(b) (Belgian guns), with the majority being employed in coastal defence positions.

Its use in the flatter terrain of North Africa proved to be less successful, but in the Far East where Japanese tanks were much more lightly armoured, it still proved useful. As the war progressed it was eventually supplanted by the more powerful Ordnance QF 6pdr gun.
The Kit

Zvezda's kit represents the 2pdr gun on the Mk.II carriage. Inside the rather small box are two sprue frames of caramel coloured styrene like plastic with a total of 33 pieces. Nine pieces are for the figures, twenty-two for the gun, and a piece each for the base and game movement flag for Zvezda's "Art of Tactic" wargaming series. No decals are included, nor would one expect any. There is an instruction sheet of the now common place exploded view, outlining three construction steps. Overall detail is quite acceptable. Some parts are on the thick side such as the splinter shield. The kit is designed as a snap-fit model. I chose to glue my kit together to provide more solidity. Zvezda does not supply any painting suggestions other than the colour artwork on the box top. I chose to do mine in desert tan camouflage.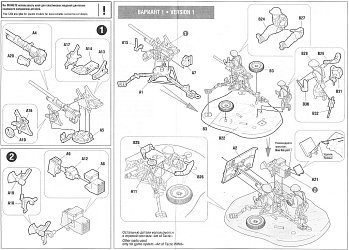 Before construction commences the builder needs to decide whether to build the gun in transport configuration or in firing mode. Separate carriages are provided for each option. There is also the option of having the cover open or closed on the ready ammunition bin. Construction was straight forward. Flash was non-existant and there were just a few minor seams to clean up.

For that little extra detail the following was performed:
Added handle plus a handspike socket to trail's tow leg. Additional sockets were added to the other two legs.
Replaced kit's rather squarish leg braces with plastic rod.
Drilled out gun sight & used a scrap piece of brass to fashion a range finder (part A19).
Thinned edges of the splinter shield and reduced the thickness of the gunner's protective shield (part A20).
Added ground spikes to the leg pads.
Replaced overly thick traverse wheel shaft with thinner plastic rod
Added spindles to road wheels
Opened up the barrel's muzzle
As for the figures, I did not use them though they do look to be excellently molded and in realistic poses. How well the gunner fits on his seat behind the splinter shield is something other modellers will need to explore themselves should they decide to use him.

Conclusion

A relatively easy kit to build due to the low parts count. Detail is nice and with a few minor improvements it makes into a decent little representation of the real gun.

References

[1] WW2 Fact File: Anti-Tank_Weapons, Peter Chamberlain & Terry Gander, MacDonald &anp; Jane's, London 1974
[2] British Anti-tank Artillery 1939-45, Osprey New Vanguard 98, Chris Henry, Osprey Publishing 2004 ISBN-10: 1-84176-638-0 ISBN-13: 978-1-84176-638-6
[3] wikipedia


Review sample purchased by the author.

Zvezda products are available at