The P-12 radar (better known by its NATO reporting name Spoon Rest) was a Soviet truck-mounted early warning radar developed in the 1950s and exported to many client states. During the Vietnam War it was used in conjunction with the SNR-75 Fan Song fire control and tracking radar as part of North Vietnam's extensive air defence network.



Z+Z Exclusive Modell is a manufacturer out of the Czech republic, specializing in Soviet radar equipment, in both 1/72 and 1/87 scales. Inside the small lid and tray box, you'll find a complete bagged Omega K/ICM Zil-157 kit, 11 pale yellow resin parts, one thin and one thick photoetched sheet, and 2 crude sprues of dark brown plastic rods. The plastic parts for the Zil are decent. Most of the cab is provided as a single piece with the doors, hood and grill all moulded in place. The chassis details are a bit toy-like, but will largely be hidden from view on the completed model. The wheels and tires suffer from moulding defects on their inside faces, and the tread detail is not great, but resin replacement wheels are (or were at one time) available from Armory, Balaton and Tankograd. Clear parts are provided for the cab windows, however these suffer from sink marks.

The Zil parts are largely assembled as per the original kit, with the exception of replacing the driveshafts with the supplied rod, adding resin and rod stabilizing jacks to the front and rear of the chassis, and cutting down the stake sides of the bed to accommodate the resin cabin. PE parts are provided to replace the plastic headlight guards. The cabin at the rear of the truck is made up from 5 resin parts, which feature nice subtle fabric details on the sides and rear. On top of the cabin is a mast assembled from folded PE, and on top of this is the most striking feature of the vehicle, the 156 mm (6.14 inch) radar array. The antenna is composed of a horizontal beam and six vertical masts made from the provided rod, each of which has a complex PE antenna array mounted to its top and bottom ends. Not provided but shown in the instructions is thread or wire to model the guy wires and electrical wiring of the antenna.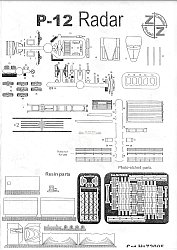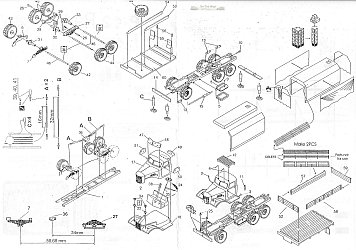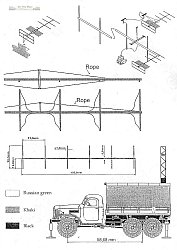 All this is illustrated in a double-sided A4 sheet that includes:

the complete assembly instructions from the Zil kit
a 1/72 profile view of the truck minus the antenna array
dimensions of the antenna (but no 1/72 drawing of the assembly)
scrap views of the antenna details and the cabin assembly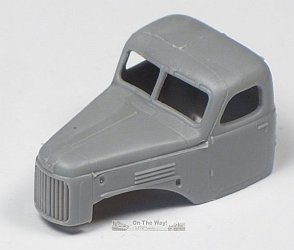 Note that the cabin assembly shown in the exploded view drawing doesn't exactly match the resin parts. Painting instructions are limited to Russian green for the body, black for the chassis and khaki for the fabric sides of the cabin. No decals are provided or markings suggested.

Preview sample purchased by the author.

ZZ Exclusive Modell products are available at