Light Tank T-80
Manufacturer: UM (Kit No. 307)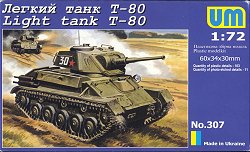 Overall, this is a very nice kit, although my particular sample suffers a little from poor molding. It is basically the same as the earlier T-70M kit, but with an entirely new turret. Most of the comments below are taken verbatim from the T-70 preview.

The detail on this kit is not quite as sharp as on UM's BT-5, and UM have taken shortcuts in some areas. For example, the mesh for the engine deck screen in molded onto the plastic, instead of being provided on the etched brass fret. There isn't even any mesh provided at all for the air intake vent, brass, molded plastic, or otherwise.

The road wheels are pretty decent, but to be honest, I actually like the wheels (especially the sprockets) from the AER kit better than these. The main complaint that I have is the quality of the moldings. Perhaps I simply got a bum kit, and others may have better luck, but many pieces in this kit have sinkmarks on them, and the turret seems particularly soft, as though it was removed from the mold too early. Most of the sinkholes will be easy enough to fill with putty, but some will be difficult. If it wasn't for this obvious inferior quality molding, I would like this kit much better.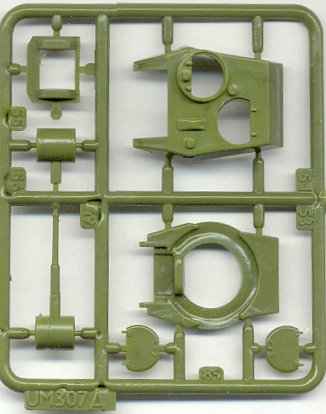 But once again, before I turn you off from buying one, let me point out that this kit has a lot going for it as well. The tracks are really very well done. Etched tracks will be better of course, but these are about as good as they can get in plastic. All hatches are open, but there is no detail inside the hatches or the hull. The etched parts (what few there are) are also welcome, such as the lift rings, and fender braces. The return rollers are extremely detailed; I wish the other wheels would have been this good. The panel line detail on the hull, as well as the numerous rivets, are also very well done.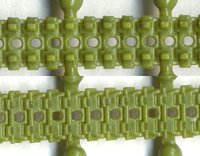 The decals are very thin and sharply printed, with a single marking option, and a nice color marking guide is provided on the back of the box. The instructions are likewise very well done.

So in conclusion, even though I was disappointed by the molding quality of this kit, I think it was mainly because I was spoiled by the extreme high quality of UM's series of BT tank kits. This is the only T-80 available in this scale, and it will look very good when built.

Thank you very much to Martola Model Shop for providing the review sample.
---