The UM T-34/76 Mod 42 with Formed? (Cast) turret. This is practically the same kit as the "cast" turret previously reviewed. although it is listed as having a formed turret it is in fact a cast turret probably better known as the Uralmash or ChTZ turret after the factory where this turret was manufactured depending on which book you read.
The breakdown of the kit is the same for all the T-34s' with just the major parts as turrets or wheel styles changing. The main drawback of the UM T-34s' are the engine screen at the rear of the hull, it is provided as a PE part which is not the best representation but under it the hull is solid, as mentioned by Doug in his review it might be better to drill out under the PE or another option is to use the spare one either the solid moulded or the open and PE on the UM kit and yes it does fit
The lower hull is a multi part, not really up to modern standards, it is detailed with most of the detail being representative rather than accurate, but this is not really a problem as most of it is hidden by the road wheels and tracks. Although being multi part the lower hull fits together well. The fenders are also seperate, with the front portions being a seperate peice, this make it easier to model the kit with part fender missing or damaged.
The wheels are the early perforated type with perforated rubber tyres, which are accurate but I am not sure if they are right for the vehicle although it wouldn't be out of place to fit other wheels to the tank, most pictures seem to show either solid wheels or steel wheels.UM tracks are the waffle type and in my opinion the best T-34 tracks available being well detailed and thin.
The out side of the wheels
The perforated tyres with the useless tow ropes.
Now we come to the turret, yes it is basically a Uralmash or ChTZ turret in shape, it does need a lot of refinement to make it correct. The main problem are the hard edges around the turret roof, rear and front of the turret, these need to be much more rounded, espacially around the roof and the rear of the roof. Hopefully the pictures borrowed from the Osprey new vanguard book demonstrate where the turret needs to be improved, also of note are the wheels.
The PE engine screen, also included are a saw and detail for putting aroung the hull MG housing.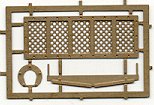 Decals are provided for 3 vehicles all from 1943
Like all UM kits it has some excellent points and some bad points, but nothing that can not be corrected, it is correct in size and shape with all the hull angles and dimensions being correct unlike the EE and MW T-34s
References
Russian T-34 battletank by Horst Schiebert Schiffer publications
T-34 in action By Steven Zaloga and James Grandsen Squadron/Signal Publications
T-34/76 1941-1945 by Steven Zaloga And Peter Sarson Osprey New Vanguard NVG009
Tankomaster Hull Drawings
M-Hobby Hull and Turret drawings
Plus Various other russian Publications that when I find out what they are called in English I will add to the list