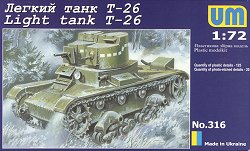 UM has begun releasing several versions of the T-26 light tank, and they share many of their parts with the old Skif T-26 kits. In fact, most of the hull and running gear are from that older kit. Which is to say that they are pretty decent for the most part. Skif had not released this version of the T-26, and neither has Mirage, which also has an extensive line of T-26 kits. In fact, not even Modelkrak had released this version, and prior to now, only the twin turret versions of the Vickers and 7Tp tanks were available. I believe that this is a unique kit.
The following is the hull sprue, front and back. As you can see, it is primarily the same as the Skif hull, although now the fenders are provided in plastic instead of brass, as in the Skif kit.
The following are the wheels sprues, front and back. Again, these are the same as the Skif wheel sprues.
And finally we have a completely new sprue for the turret. The molding quality is the same as with the Skif kits, that is, pretty decent, though with a few sinkmarks. The turrets necessarily lack bolt detail around the turret sides, and really should have them added by the modeler to make it look more plausible. There is an option to arm both of the turrets with machineguns, or one of them with a cannon, and one with a machinegun.
The tracks are the same as the early Skif tracks, and are absolutely horrible. I highly recommend replacing them with the etched brass tracks from PART.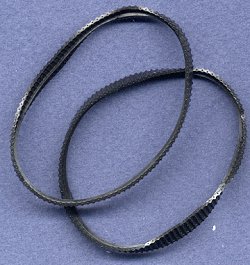 The brass fret is similar to that from the Skif kit, but with fewer parts. The sprocket wheels are especially nice.
Several marking choices are included, one of which was captured by the Finns. The decals are very well printed and in excellent register.
Thank you very much to Jim Singer for sending in the review kit.