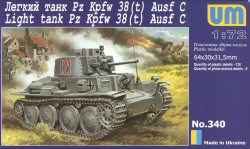 All of my Attack Pz. 38(t) kits are now obsolete. I guess that's the purpose of limited-run models: to fill a niche in the marketplace until a better model comes along. Well, here's the better model.
The new Pz. 38(t) from UM is a superb model. The feeling I got when opening the box took me back to when I first saw the BT-5 from this company, their first release. Everything is molded very cleanly; the engineering of the model is well thought-out; and the detail on all of the parts is incredibly well done. Even the turret was molded in many parts in order to include the heavy bolt detail on the turret walls.
The tracks are link and length, and they look fantastic. They also look like they will be incredibly easy to assemble, with little or no clean-up necessary for the individual links to make them fit with each other. Instead of interlocking hinges, there is just a step at the end of each link that fits with the alternate step on the adjacent link. Really nicely done.
From the first look over this kit right out of the box, the only negative that jumps out at me is the closed crew hatches, both on the hull and the commander's turret cupola. Even if PART doesn't release new etched brass sets specifically for this kit, I'm sure that the sets designed for the Attack Pz. 38 should work equally well with this model.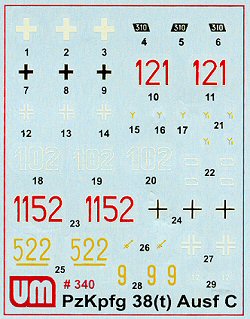 I was thinking that I could buy enough copies of this model in order to kit-bash them with each of my Attack Pz. 38 variants, but the future release schedule for UM includes pretty much every vehicle that used this chassis, including the Jagdpanzer 38(t). Seems to be such a waste though, to just toss my Attack kits, so I'm sure that some day I'll subject myself to the chore of assembling them.
But until then, I'll be enjoying this new series from UM.
Thank you very much to Rafal Niedzielski for the review kit.
Postscript: After posting this review, I received the following information from Katona Gergely:
"I just want to inform You about this kit: UM kit Pz. 38 (t) C. Probably, You know, that I am Hungarian, so I was happy, when I read on the internet, that this kit has Hungarian markings. I bought it, but my happyness dissapeared, becouse its decals are not good for the Hungarian vehicle.
First question: Did Hungary use version C? The answer is probably yes. Hungary used only 38 (t) G's in Russia, not version C! (108 Pz 38 tanks, included 20 with radio instead of frontal machine gun). I can't find any hungarian C picture or written data, only one: In MBI's book of Praha tanks, there is, that Hungary received 2 C and one D tank at 11th of November 1942. At this time, the G's were already at Russia.
So, the turret number: 102 at Russia, near the river Don, can't be version C only G.
Second question: Are the Hungarian decal correct? No.
The turret number 102 isn't enough for the real vehicle. These tanks has several markings: --3 white turret numbers. (On the turret) --2 licence plate numbers (front and rear) --Hungarian national insignias. (Early style: Red-white-green cross) --Unit symbols (In this case a morning star in a parallelogram, and a number: 1.)
I am sending You a photo of this vehicle (Number 102). You can see all the markins, exept the licence plate numbers, but those were also on it. This vehicle was a Pz 38 (t) G, with radio, without frontal machinegun."
Thanks Gergely!