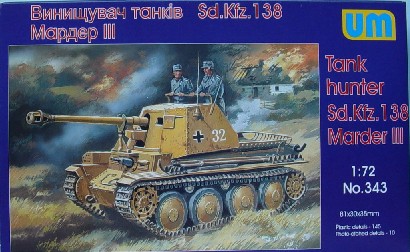 Another Marder although not as nice looking as the M it is an improvement over the initial version in both looks and protection. This vehicle followed the initial version and was an attempt to improve on the inadequacies of the previous vehicle in both layout and protection.
As with the first Marder the hull is the basic Tank
The second Sprue contains the parts for the super structure, gun and gun mounts along with the Ammunition Stowage bins, although sadly no stowed rounds are represented. A rudimentary interior is given although admittedly not a lot can be seen of it once it is built. The PaK 40/3 is nicely represented but could do with a bit more detailing for those that want it. The fittings for the rear deck are in plastic, I am not sure whether these are just for stowage or for the crew to be able to move around easier, probably a mixture of both.
The tracks and wheels are the same as supplied in all the other Pz 38 (t) kits, UM must have modified these sprues as the early kits had problems with the sprocket and idler spacing making then too narrow for the tracks, this has been rectified and both can be fitted together without any added spacing.
The usual PE fret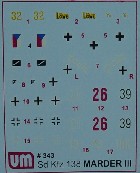 The Decals, again UM have provided a whole array of possibilities, although this time they have outdone themselves and supplied 3 schemes in the instructions, the decals are thin and in register although I have no experience of how they react with solvents are softners.
A nice kit of the Marder and fairly well detailed, although there is room for improvement in some areas, the kit measures well to the dimensions I have and the drawings in various publications.
References
Marder and Grille MBI Books dual Czech and English Language
PzKpfw 38(t) in action Squadron/Signal No 19
Marder III Militaria N0 73