Wheel-track Tank BT-2
Manufacturer: UM (Kit No. 302)
Coming out shortly after the wonderful BT-5 kit, this earlier version of the wheel-track tank is beautifully represented by this kit. Although I am very impressed with all of UM's kits, I think that their series of BT tanks is their best, and are some of the best small scale tank models available today.
Most of the parts are identical to those included in the earlier BT-5 kit, and the following comments are taken directly from the earlier kit review as well. As you can see, the hull construction is very complex, with multiple parts that represent the many facets of this angular hull. The side walls are even of a double thickness, thereby allowing the inclusion of the wheel suspension springs inside the hull wall, even though only a portion of them will be visible when complete. The molding quality is top-notch throughout the entire kit. Rivet and bolt detail is plentiful, and there are very few sinkholes or ejection pin marks.

The wheels and tracks are amazingly well done. The hubs have great definition to them, with numerous bolts around the rim. I am concerned about the ejection pin mark on the center of the front wheel hub; it is in a very awkward location, and great care will be needed to clean it up without ruining the hub detail. The instructions don't implicitely state this, but remember to keep the flat edge of the front wheel hub at the top of the wheel. This hub was fixed in place, and the flat edge always faced to the top. The tracks are fantastic.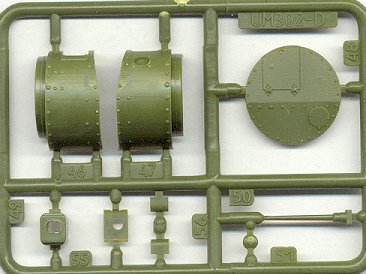 The turret is once again very well molded. There is plentiful rivet detail around the turret sides and on the roof. Unfortunately, the hatch is molded closed, but shouldn't be too difficult to open up with a bit of surgery to the turret roof. The armament is included on the wheel sprue.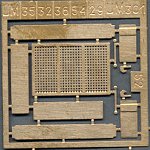 Another fine feature of this kit is the small fret of photoetched brass. The engine deck screen, and some ventilation covers are included as brass parts, and will look great when assembled. Once again, I would say that it is really great to see a manufacturer include etched parts as a standard component of their kits.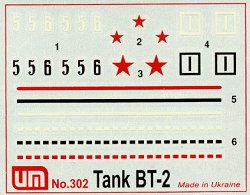 The decals are very comprehensive, and include markings for four vehicles, plus the black, red and white turret markings will come in handy for any additional vehicles you'd care to to model.
This is a superb kit. I have seen the BT-5 built into gorgeous replicas by several modelers, so I am confident that this model will look just as extraordinary when built.

Thank you very much to Martola Model Shop for providing the review sample.
---