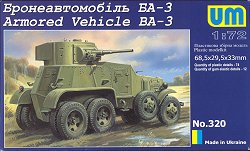 Never before available in plastic, UM has brought us this new series of pre- and early war armored cars. Although this is the earliest version UM produces (they also make a BA-6 and BA-10), this was the last of the three released. But it is the first of the three that I am reviewing . . . Make sense?
For those of you familiar with this company, or its sister company Skif, you'll know what to expect with this kit. In fact, the turret is the same as the BT-5 turret from UM's earlier release, which in turn, is from the Skif T-26 Model 1933.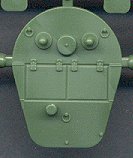 It is fairly complex, yet easy to assemble. There are many small and highly detailed parts, however, UM seems to have skipped a bit by failing to provide all the rivets that were very prevalent on this series of armored cars. Just look at the box art to see what I mean. The body and turret of this kit are completely lacking in rivets. Of course, the reason is because of the way the body was molded, and the difficulty of molding detail on vertical surfaces. I would have been happier had UM decided to make the hull from separate panels, as Mirage or RPM do with their kits, so that the rivets could have been molded on flat surfaces.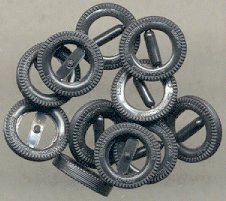 I have heard second-hand that there may be some scale accuracy problems with this, and the other BA kits, but without currently having any references myself for this series of armored cars, I cannot confirm or refute these rumors. Hopefully I'll be getting some references soon.
The decals are very nicely done; thin and sharply printed. Three marking options are provided, including one vehicle captured by the Germans.
I've seen this model built, and it looks really great when completed, especially when the missing rivets are added.
Thank you very much to Maurice Metzger for sending in the review kit.