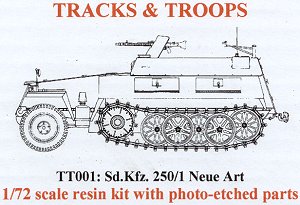 I consider Philip Van Acker of Tracks & Troops to be a good friend of mine, so I warned him ahead of time that I was going to show no mercy when reviewing this new kit of his, so as not to show any bias towards him. So get your heart medication ready, Philip ...
First of all, the subject: more WW II German!?!
Seriously though, this is only the second time that the Neue Art version of the Sd.Kfz. 250 has been made available in 1/72nd scale, the other option being from Al.By, which as we all know, is next to impossible to find anywhere. This was a very common vehicle in the late-war German armed forces, so it is surprising that given the obsession the modeling community has over German subjects, that this half-track has not been modeled more frequently, or in plastic. So considering that, this was actually quite a good choice of opening subject for a new model manufacturer. I believe that the follow-on subjects (250/3, 250/8 and 250/9) have never been done before, so they will be especially appreciated.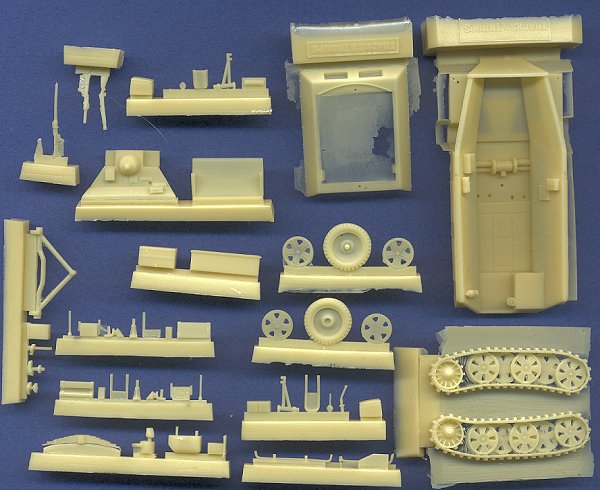 The kit parts have been made under contract by some well known Czech model makers, and are of very high quality. There are no casting flaws on any of the parts; the only problem being several broken pieces. Perhaps separating the kit parts into two or three bags instead of cramming them all into one bag may help protect the parts better during shipping.
At first look, there are few research flaws that I could find. Philip warned me ahead of time about the machineguns. The kit comes with two MG-34s, although the MG-42 was the standard issue for this vehicle (though I'm sure there were often times MG-34s mounted as replacements). Philip assures me that future versions of this half-track will be armed with MG-42s.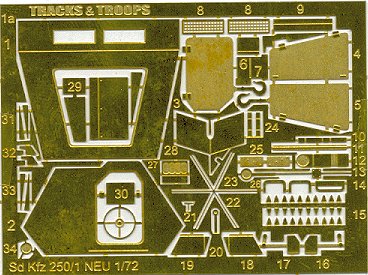 When I first saw that the crew and engine hatches are half the thickness of the other brass parts, I was concerned that they would not sit flush with the armored plates if closed. But then I noticed that each hatch opening has an inner rim that is also half the thickness of the brass sheet, so the hatch thickness is actually perfect. Some hand holds are provided in brass, but will be better replaced with 3-D items. I am not too keen on the separate track guide teeth (the little triangles in the lower right of the brass sheet). It would have been better had these been molded onto the tracks in resin.
The rear crew hatch is open, as is the engine access hatch, though no engine is included (the 250 used the same engine as the 251, so the Extratech update set will work well for this kit).
I would like to commend T&T for providing excellent instructions for the kit, which are often the weak spot of many resin kits. The instructions are a combination of nice hand drawings, and some black & white photos of the kit construction in progress. The photos are nice and clear, but I would warn T&T against the temptation of making photocopies of photocopies for the instructions, as that is how they quickly become illegible. Keep printing them from the source file, and there should be no problems.
I've conducted some preliminary measurements (hull width, wheels, tracks, etc.) and the only discrepancy I can find is that the tracks are about 0.5mm too wide. Once the kit is built, it will be easier to check some other dimensions, but as of now, it looks dead on for size accuracy.
No markings are included. Nor are any figures. Since I always criticize other manufacturers for not including decals or figures, I guess need to do the same here.
So, at first look, this appears to be a superb model. Now it's on to the construction, where I'm sure I'll find all sorts of problems ... :-)
Thank you very much to Tracks & Troops for the providing the review kit.
References:
Military Vehicles in Detail #1 - Sd.Kfz. 250/1 to 250/12, by Terry Gander
Wydawnictwo Militaria #19 - Sd.Kfz. 250, by Janusz Ledwoch
Encyclopedia of German Tanks of World War Two, by Chamberlain and Doyle