Germany sold The Netherlands 468 Leopard 1s, which the Dutch proceeded to improve upon. The original Dutch Leopards were designated Leopard 1NE, but after incorporating many improvements, primarily the additional turret armor of the Leopard 1A1, the designation was changed to Leopard 1V. I believe they were all removed from active service in the mid 1990s.

New on the Dutch Leopard 1V:
New gun stabilizer and fire control computer
Modified sights
Different radios
Light intensification periscopes for driver and commander
FN MAG replacing the MG-3, on a revised mount
Tool boxes on hull sides
Turret armor as Leopard 1A1
Different smoke launchers
Different tracks (also removed the ice cleats stored on front glacis)
This kit nicely incorporates all of those modifications that can be seen on a scale model.
This is a complete kit, not a conversion. But there is one strange aspect to it, that being there is no hull floor included. You can't see it in the scan above, because the hull sides with the suspension arms are laying flat. But the drawing below shows how these parts were actually cast as a single part, connected in the front and back, but with no floor (my parts were damaged during shipping).
The original kit converted for this version was the Revell Leopard 1A5, which was a mighty fine kit to begin with, and the modifications made for this kit were equally well done. All of the unique features of the Dutch Leopard 1V have been incorporated as either parts to attach to the main kit (such as the laser rangefinder), or else molded directly onto the kit parts, for example the tool stowage bins. The only thing that I found lacking were some metal brush guards on the outside of the smoke grenade launchers, which was a good thing, actually, as they would have looked fairly poor had they been molded in place. The modeler should replicate these guards with very thin pieces of styrene or brass strips.
The instructions are perfectly adequate to assemble the kit, though additional photographs of the real 1V may be of assistance as well. Here's one source I've found: http://www.primeportal.net/tanks/peter_van_iren/leopard_1_nl/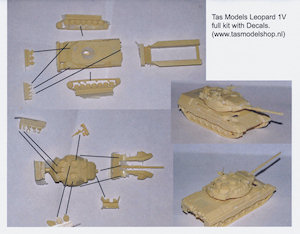 And here's something you rarely see in a resin kit: decals. Check the photos at the link above to find location information for the markings.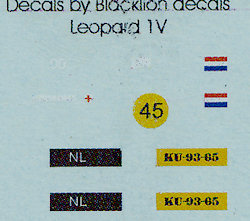 This is a great little kit of a variant of the Leopard tank that I don't believe is marketed by anyone else. The quality of the parts is top-notch, with only a couple of small air bubbles in the resin. The problem with parts broken in delivery is mitigated by packing the parts in a ziplock baggie.
Thank you very much to Tas Models for providing the review sample. I greatly look forward to building this one.