Again, moulding on this one is lovely. The very small box contains two identical small sprues, each with 20 parts. Of these, 3 are not mentioned in the instructions (a stowage box and two headlights), so the finished product will only contain 17 parts. Despite that, detail is abundant.

As previously noted, no PE or decals are included.

I'm not an expert on the UE, but it looks to me like this is a later vehicle, with angled front fenders and a louvered exhaust cover.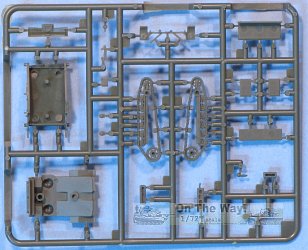 The upper hull and rear panel are moulded in a single part via slide moulds. Both of the crew domes (calottes) are moulded closed. The vision slits in the calottes are very there, but very faint. The tow rope is moulded onto the hull, though the shovel is provided as a separate part. The square plate on the hull roof used to indicate the vehicle was towing a trailer is provided, but sadly S Models did not include the UE's characteristic tracked trailer.




Each side of the suspension and track is moulded as a single part. Despite this, the detail is sharp. The double rows of track guide teeth are moulded as a single wide tooth, which I think is acceptable given the tiny size. I did notice that some of the microscopic sprocket teeth were missing, particularly from the left side unit. This was the same on both kits. One potential improvement in this area would be to hollow-out the top of the suspension beam.





Without assembling the kit I couldn't check on scale accuracy. The width over the front fenders checked out as 1/72. When I tried to estimate the length of the finished model I came out a little long. Without a set of plans I'll withhold judgment on this.

Again, this is a fantastic little kit that should build up really quickly. It offers great potential for all those weird and wonderful German field conversions, plus I can just imagine certain modellers taking advantage of the second kit in the box to open up all the hatches and add an interior!
Preview sample purchased by the author.
This model can be purchased from