Preliminary remark:
Kitnumber so far not know; the kit will soon be released.
Classification: Quick build kit - 2 kits in a box.
The kit comes in a cardboard box (folded type).
The kit contains:
- A plastic bag with 2 identical sprues, with a size of 17 by 9,5 cm; every sprue contains 13 parts for the vehicle.
- Instruction manual (a manual was not included in my preview sample – see pictures).
- Decals (decals were not included in my preview sample).

The examples I have received did not have sinkholes or flash.
Ejector marks were on the inside of the parts (where they will be invisible after construction).
There is no misalignment of the parts.
The turret hatches can be open or closed.
Tools are finely moulded on both fenders.
Wheel & track units are nice and sharply cast (in- and outside detailed).
On the sprue there are 2 different guns for different variants – (see pictures of built models).

Casting quality is high class; all parts are very sharp and highly detailed for a "Quick Build" kit.
Dimensions:
Hull width: 26mm.
Hull length: 53mm (not counting the fenders)

Instruction Manual:
An official instruction manual was not included in my preview example. – (see pictures)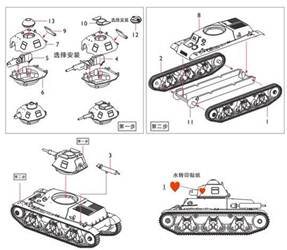 Conclusion:
For a "Quick Build" kit this model is high class and casted to a high standard.
It is to be recommended kit for many modelers. My compliments to S-Model.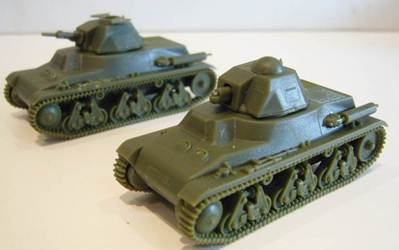 My thanks to S-Model for the preview sample of this kit.