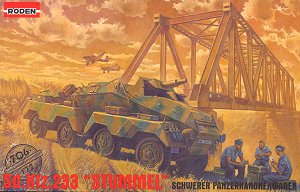 This is Roden's final entry in their line-up of early 8-wheel armored cars of the Sd.Kfz. 231 series. Their next round of armored cars will be the Sd.Kfz. 234 series.
Although this kit is very similar to the previous armored car models, for some reason I like this one the best. Perhaps I am simply partial to this vehicle, having already built a kit of one by Fine Scale Factory, or perhaps it's because the open fighting compartment adds a bit of character to the car. I'm not sure the reason, but take a look for yourself.

This sprue is essentially the same as with the earlier kits, but with a new upper hull with the open fighting compartment. There is minimal detail inside the hull, but enough to get scratchbuilders started. The following scan shows most of the interior parts as well as the gun. I am quite impressed with the gun and its mount. It is much more detailed than I would have expected, and I think it will look great when built. The MG-42 is fantastic; probably the best I've seen in plastic.

The wheels and chassis parts are the same as with the previous kits, allowing full articulation of the axles and wheels. Two of this sprue are included in the kit.
The decals are excellent. Once again, Roden has printed the crosses in separate colors to eliminate the risk of printing them out of register, which is all too easy to do in this scale. This is a great solution to this age-old problem, and I hope that other manufacturers take notice and follow suit. Markings are included for five different vehicles, including one captured by the Americans in Tunisia. One question, however: on the back of the box a vehicle is depicted from Panzer Division Viking, with that division's distinctive circular swastika markings. The color artwork shows this marking to be white on a black circle background, but the decals are only for the white swastika. If a black background is in fact correct, it will need to be painted on.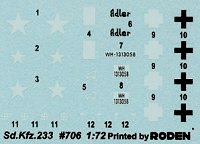 This is a superb finale to a great series of armored car models. If Roden's forthcoming line of Sd.Kfz. 234 armored cars continues in the tire tracks of this series, we'll all be quite happy with them.
Thank you very much to Roden for providing the review kit.