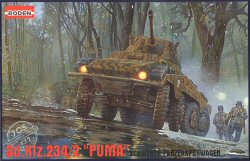 The first of the new Puma kits has arrived. Most modelers are aware that Hasegawa will also release a Puma soon, so we'll see how these two kits stack up against one another (as well as against the MarS resin kit). (A Puma Comparison article is now available that provides a side-by-side comparison of this kit with the other Puma kits. Unfortunately, this Roden kit does not compare very favorably with the others.)
You know, for this being one of my favorite armored vehicles of the war, I am surprised to realize that I don't have any reference material for it. Consequently, I can't at this time review the kit from the perspective of scale accuracy.

On the sprues, it looks fantastic. Think of their earlier armored car kits, only better. The detail is fantastic, and the molding is very good, for the most part. There is a small amount of flash that will be easily removed, and there are also a couple of sink marks in very unfortunate places. But overall, this is a very well made kit.

Some of the tools have been molded separate, whereas others are molded onto the fenders. There is a small amount of interior detail that won't be used for this particular kit, since the turret hatches are not molded open (my only complaint about the kit). But there are other vehicles planned for this chassis where the interior will be visible.
It is interesting to note that two of the hatches on the fender storage bins are molded open, especially considering that the turret hatches are closed. But once again, with the flat rooftop, it should be easy enough to open these hatches ourselves. Again, I am sure that etched brass detail sets for this kit will soon follow.
Another really neat feature of this kit is the way they molded the smoke grenade launchers. The mounting brackets for the mortar tubes are molded separate, and each tube is molded on a flat plate with the open end facing into the mold, so that it can be molded with a partial opening. The modeler is to slice the tubes from the flat plate and glue them to the mounting brackets. This is a really creative solution to the problem of molding these parts in plastic, and I am surprised to have never seen this before.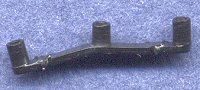 Markings are included for two unknown units in France, summer of 1944. As always, Roden's decals are very thin and sharply printed, but they have left behind their previous technique of printing the German crosses in two colors. Luckily the registration on this sample is fairly decent, though not perfect.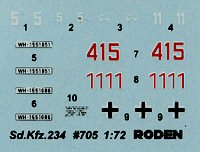 This is an excellent kit, and I look forward to see how it compares to the forthcoming Hasegawa kit. Hopefully by that time I'll have accumulated some reference material on this really cool armored car.
Thank you very much to Roden for providing the review kit.