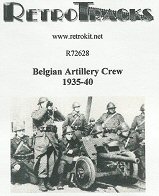 This set contains six figures of WW2 Belgian soldiers in combat outfit, all wearing a greatcoat and the Belgian copy of the French Adrian helmet. Called "Belgian artillery crew" by the manufacturer, they are depicted on the leaflet as serving the Belgian-made 47mm FRC antitank gun.

However, these guns were not used by the artillery units themselves, but equipped the antitank sections of the infantry and cavalry regiments. So the collar patches should not be royal blue with red piping (as mentioned on the leaflet) but could be anything from red with blue piping (for a line infantry regiment) to yellow with blue piping, as used by some cavalry regiments. Best to check your references to get the correct collars depending on the type of regiment you want to depict. Anyway, since all four figures wear the greatcoat, this is in effect a non-issue since no regimental colours were worn on the collars of these coats.
Additionally, since these uniforms were worn by the majority of the Belgian soldiers at the start of WW2, the three standing figures could be used for a lot more situations than just serving a small gun. The three kneeling soldiers however are, due to their pose, more limited in use.
The figures are crisply moulded and have fine details on them. Webbing and leather leggings are nicely sculpted. Apart from some light flash, which can easily be removed, the casting is flawless and no air bubbles to be seen.

The soldiers carry no weapons themselves, but their webbing includes the rifle ammo pouches. This set includes 3 rifles, but detail on them is rather soft or non present. Judging by the shape of the magazine, I think they represent the Belgian FN Mauser Model 1889/36 7,65mm. However, since the other main Belgian rifle used during this period (the 7,65mm FN Mauser Model 1935) resembles the German Kar98 7,92mm Mausers rifle extremely well, you could easily use one from a Dragon or Preiser set to have more detail.