Panhard 178 Model 1940 w/Renault Turret
Manufacturer: RPM (Kit No. 72304)
It seems to be a trend lately for model companies to release "series" of kits now, instead of just single releases. I think this is a good thing, as it allows them to maximize the use of common sprues of parts, and increase profits from smaller investments. The latest series from Polish company RPM is a line of the French Panhard 178 armored cars. This is the first time this vehicle has been made available in plastic, though there have been several releases in resin for many years.
RPM are establishing themselves as makers of very high quality plastic kits, and these new armored cars continue that trend. The plastic molding is very good, and the master parts are highly detailed. The hull is formed from several separate plates molded flat, so that good bolt and other detail is possible. In fact, some of the bolts on the hull sides may benefit a little bit from some sandpaper, but this sure beats the alternative. The only flaw I am aware of with this kit is that the door on the left hull side has an open window, and no armored shutter for it. The instructions don't even show it, so this was a fairly major oversight. According to Tracks & Troops, all of the Panhard kits share this same flaw. Luckily, this piece should be quite simple to fabricate on our own.
On the rear of the box there is a color painting of the vehicle, along with several color chips, and a diagram of the decals included in the kit. As you can see, there are only four roundels included as markings for this version.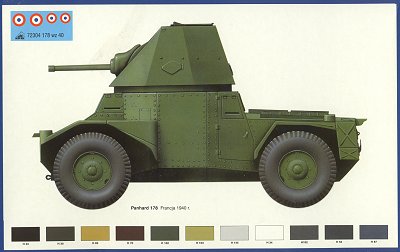 Currently my references for the Panhard are very slim (i.e. non-existent), so I can't comment on accuracy, but I will do more research when I build the kit. It certainly is well made, though, and I have heard from others that it is accurate. It should build into a beautiful model.
---