FT-17 w/Renault Machinegun Turret
Manufacturer: RPM (Kit No. 72205)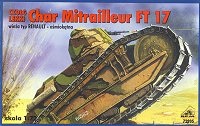 Suddenly, everyone wants to release FT-17's! This is a good thing, as this small tank saw very widespread service, both geographically, as well as throughout several decades. This release by RPM is one of several versions that they have given us this past year. The version reviewed here has the machinegun turret manufactured by Renault. I believe that some of the other kits are the exact same as this one (with different markings) because there are several unused parts in this release.
I am trying to determine if this is a limited-run model kit. If it is, then it is very well done, with only a small amount of flash, and minor sinkholes. If this is not a limited-run kit, then its quality is a little lower than other manufacturers. Regardless, the detail is abundant, and I'm sure it will build into a fantastic model. The running gear is very complex, and I commend RPM for even attempting such a project in plastic. With care, it should turn out looking fantastic. Luckily, they included all the numerous rivets all over the vehicle, which was a major oversight in their earlier Ford Tfc kit.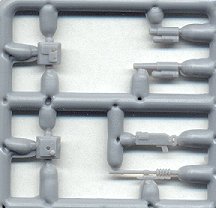 There are numerous gun options available, and it also includes the gun breeches for inside the turret.

I am very disappointed with the tracks. They are fairly stiff vinyl, and lack serious detail. Perhaps with heavy weathering, they can be made to look ok. Since there really is no sag to the FT-17 tracks, hopefully the stiffness will not be a problem.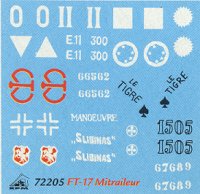 This marking scan was taken from the back of the box, so as to better show the white markings. There are an incredible eight marking options included, of some very esoteric vehicles, such as Brazil, Chinese Nationalists and Manchuria (to name a few). The decals are thin, and very well printed. There are also three very nice color profiles on the box rear showing some of the painting schemes.
I think this is a very nice model, with a lot going for it, and I look forward to building it some day. It will make an interesting comparison with the resin FT-17 available from Al.By, plus the forthcoming FT-17 series from Mirage.
---