In this set you get 12 (hollow) cartridges and 9 separate projectiles. The technical quality of the parts is beyond compare.
Before I address the issue of accuracy, I must confess that I found it mighty difficult to get information about the size of these rounds. After going through 30-odd books on the T-34, nothing useful turned up. I eventually got some help via Ville Kosonen and Tomas Enerdal on the Allied DG of Missing Lynx.
What I eventually found from [1] are the following measurements, which I haven't been able to match to pictures of all the rounds, making it difficult to make sure which measurements should be compared with the rounds in the set, which (according to the RB Model website) gives us "3 x armour-piercing, 3 x sub-caliber, 3 x high-explosive".
Empty shell: 625mm
Fragmentation round O-367A: 357mm
Fragmentation round O-365K: 340mm
AP-round with ballistic cap BR-365: 365mm
AP-round with ballistic cap BR-367: 306mm
Sharp nosed AP-round BR-365K: 263mm
AP-round subcal BR-365P: 255mm
This picture (obtained via Ville Kosonen and credited to the wk2ammo-forum website) might help identify the rounds, but lacking similar drawings of the other rounds, it can't be exclusive.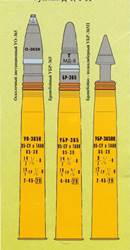 The measurements for this set are:
Shell: 8.85mm (637 scale mm) compared to 625mm for the real shell
Fragmentation round: 4.43mm (319 scale mm), which would make them rather large for both types of fragmentation round of which I got real measurements.
AP-round: 4.76mm (343 scale mm), which would fall in between both AP rounds of which I got real measurements. With the extra length of the shell, it would be pretty close to the BR-365, though.
AP-round subcal BR-365P: 3.45mm (248 scale mm), compared to 255mm for the real round. Again, with the extra length of the shell, this will hardly be noticeable.
Caliber-wise, my callipers would lead me to believe the rounds are 4% underscale, which is within my tolerance.
This drawing from RB Model's competitor, Armorscale, might be useful for painting the shells.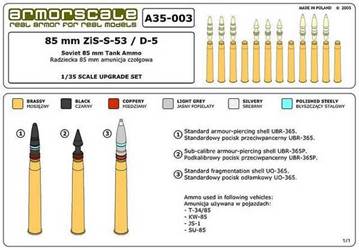 PS: As I understand from [1], these rounds can also be used for the 85mm field gun Model 1956 and 85mm AA
[1] Armortek Website

Sample bought with author's pocket money.
This model can be purchased from