Material:
Resin.

Conversion for:
UM 608 or UM 609 OB-3 Artillery Railcars.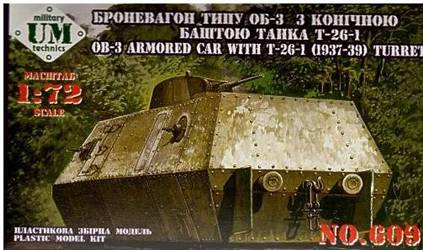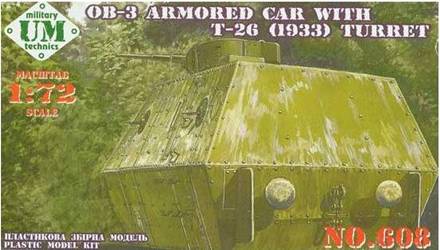 Quality:
Casting is very good, there is little flash and only a few pinholes to fill in.
Parts:
3 (turret, 2x Sponsons).
Instructions:
3-way drawings provided which show parts placement on the OB-3 Artillery Railcar.
Packaging:
Zip-loc bags in well-cushioned envelope.
Additional:
1st time this conversion is available for the OB-3.
Notes:
The OB-3 Artillery Railcars were semi-standardized, but each factory manufactured them with different details. Work was also carried out by railway workshops, hence it is virtually impossible to be dogmatic about what each one looked like. Things like access rungs, MG ports and protective plates to couplings varied enormously. Also remember to change the track gauge from broad (1525mm) to standard (1436mm).
Summary:
This is a unique and easy conversion for UM's OB-3 Artillery Railcar. Some parts will be needed from the UM OB-3 for this turret; alternatively you can use guns from other Russian tanks for different versions (e.g. 76mm F-22 and KT-28 guns)
I recommend getting one to dress up your railcar collection or diorama!