This PST kit represents a variant of BTR-50, which itself is based on the PT-76 amphibious light tank. BTR-50PK denotes the vehicle has a roof (krishna), as the original BTR-50 doesn't have one. The PK is usually used as a command vehicle, but uncommonly as a troop transport. I have not done extensive research on this subject, so I will not describe accuracy.
The kit is well moulded in soft green plastic, with only minor, easy to clean flash. The tracks come in a grey hard plastic. There are four sprues, three come from the PT-76 kit. (Tracks, hullside+suspension, upper hull+lower hull.) The instructions are typical PST, cluttered but concise enough to work with.

The wheels are quite nice, the suspension is bland, but won't be seen after construction.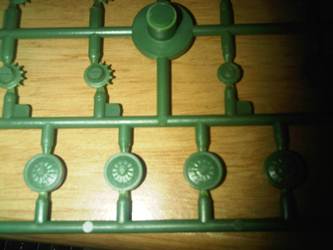 Close up of the wheels.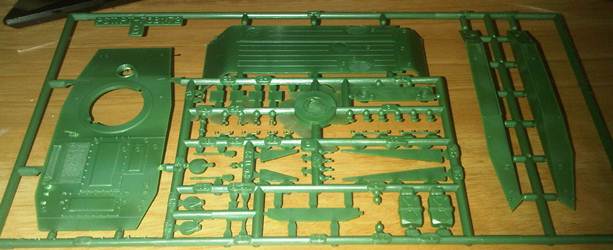 The upper hull is moulded with the driver's hatch open, but only the engine deck will be used.
Underside (belly) has very good detail.

This is the new sprue, the front superstructure is to be attached to the detached engine deck from the previous sprue. The commander's hatch is open, but the hatch itself has mute detail inside.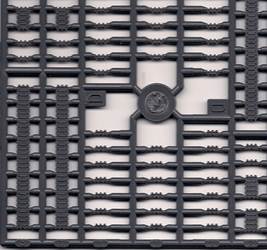 The tracks are link and length, they fit quite well for my PT-76 kit. Furthermore, you get many spare links should they break, or you can use them as stowage.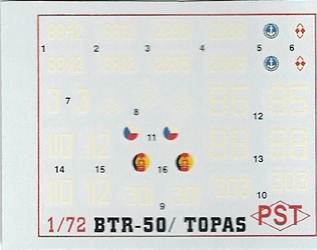 The decals are excellent, the instruction lists five separate options. However, there are enough decals on there for nine vehicles. They are much better than ACE decals. (ACE's are prone to breaking...)
Conclusion: This is an excellent kit; the price is rather low for the quality you get. The decals alone are worth most of the price. Highly recommended.