M-30 Howitzer (with crew)
Manufacturer: PST (Kit #72040)
by Julius Ebke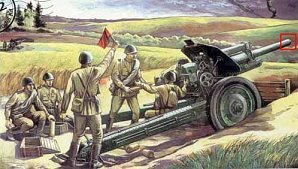 What you get:
59 parts for the gun
15 parts for the crew
A sheet with instructions and short history in Russian and English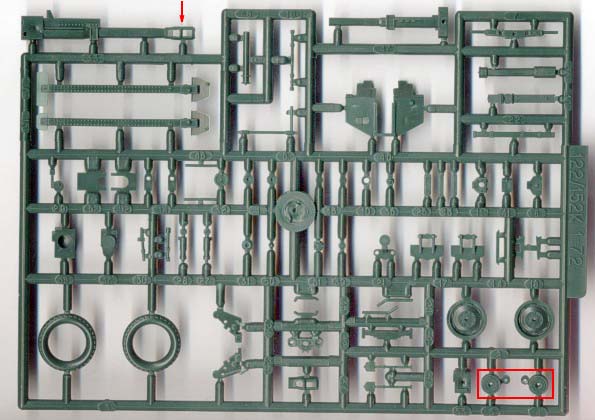 The first thing people who know this gun will notice is that the muzzle-brake is missing in the picture on the box and in all illustrations on the sides of the box (see red square). Please note that the muzzle-brake is included and that it is of a very good quality just as the rest of this kit.
Above you can see the sprue with the parts for the gun. The parts are molded very detailed and have nearly Revell quality. The barrel is made of a single part while the muzzle-brake is two-parted which is, in my opinion the best solution to get a filigree muzzle-brake and straight barrel. The only thing I didn't like were the hand-wheels to target the gun (lower right corner). I replaced them with parts of another kit seeming more realistic to me.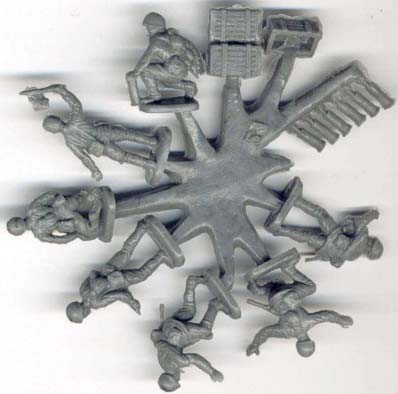 In the third picture you see the sprue for the gun's crew. There's a lot of flash which is very hard to remove due to the soft plastic used to make these little soldiers. They seem to be copies of some toy figures so in fact they are unusable for a serious diorama, same as the two boxes and the ammunition included.
All in all I would say that this is a very small but also very nice kit for this standard Russian howitzer. I can't say anything about it's scale but it doesn't seem to be too inaccurate and I'm sure it's an enrichment for every collection of WW2 vehicles.
Alexander Kolesnyk adds:
Julius is obviously referring to the 152mm D-1 howitzer, which uses the same carriage and shield as the M-30, but has a longer barrel fitted with a muzzle brake. Both guns are manufactured by PST and are in fact one and the same sprue which contains both barrels, one of which with a muzzle brake.
Although both guns can be built from the kit, the statement by Julius Ebke is somehow misleading, as the actual kit name and box art are both referring to the M-30.
---