D-1 152mm Howitzer w/Zis-42 Half-track
Manufacturer: PST (Kit #72031)
I really enjoy this kit, since gun kits in 1/72nd scale plastic are fairly uncommon. The addition of the prime-mover is an added bonus. PST also sells the Zis-42 half-track as a separate item, as well as with a 37mm AA gun, but this kit is the only available source for the D-1 howitzer.
The half-track is based on the old AER Zis-5 truck kit, and includes the complete truck:
An additional sprue is included that allows the construction of an all-wood driver's cab:

Another sprue is included with the parts unique to the half-track version.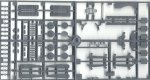 All of these parts are fairly well molded. While the detail is a little vague in some areas, the overall quality of moldings is very high. The truck in particular, could use more details, for example in the driver's cab, which is very bare. Good references (which I do not have) will be very useful for detailing this model.
The D-1 howitzer is included on a separate sprue of very dark green plastic:

In this instance, the molding is a little less sophisticated, with some sinkholes and flash, but the level of detail is much higher than on the vehicle parts. There are many very small parts, and I have seen this kit built into a remarkably well-detailed model. There are several parts on this sprue that are not used, as they belong to the very similar M-30 122mm howitzer kit.
The decals in the kit are common to all of PST's Zis kits. The scan below is of very poor quality, in order to show the white markings; the actual decals themselves look quite adequate, and typically, PST's decals are very high quality.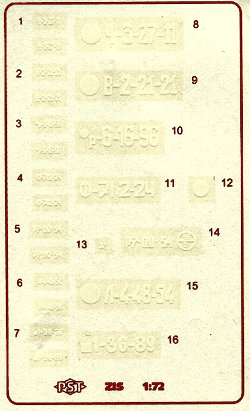 ---