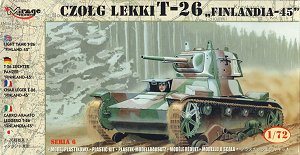 One more in Mirage's series of T-26 light tanks, this kit represents a late war modification of the 1939 Model with the conical turret, as accomplished by the Finns. Finland captured a number of Soviet tanks both during the Winter War of 1939 and during WW II. Some were used without modification, but others, such as this one here, were slightly improved to Finnish standards. Changes to this vehicle include to the main armament, and other minor detail changes on the turret. However, I have received information from Marko Mäkinen that the Finns never used the 37mm gun on T-26s, but rather only on some ex-British Vickers tanks. All T-26s were armed with the Soviet 45mm gun. Luckily there are aftermarket gun barrels available for correcting this mistake.
You will recognize many of the parts from their earlier 7Tp kits, specifically, the chassis, lower hull and tracks.
The following sprues show the new parts for this kit:
This kit is the same as other Mirage kits, in that the detail is wonderful, the engineering of the kit is well planned, the instructions are the best in the business, and the decals are very nicely printed. There are markings included for one Finnish tank, and the instuctions include a single paint scheme as depicted on the box art. But another comment that Marko sent to me is that the blue color of the Hakaristi is incorrect. After 1941, they were all painted in black, as depicted on the cover art.

Mirage makes some of the best models in the market today, and this kit is one of them.
My sincere thanks to Chris Kowall for providing the review kit, and to Marko Mäkinen for the research.