T-26C Model 1939
Manufacturer: Mirage (Kit No. 72612)
At one time, the only way to build a 1/72nd scale T-26 was to buy one of the Modelkrak resin kits. Long desired in plastic form, this tank is now available in several versions from three manufacturers: Skif, UM and now Mirage. To date, Mirage has released 11 variants of this tank (not including Vickers and 7Tp kits), and I believe a couple more are yet planned.
Much of this kit is the same as the previously-released 7Tp and Vickers kits, so many of the sprues below will look familiar.

Sprue A contains the sprocket wheels, fenders, pioneer tools, wheel supsension units, and miscellaneous details. The sprocket wheels are amazingly detailed with superb bolt detail, and very fine, and in-scale sprocket teeth. The detail on everything is fantastic. Bolts are numerous, and everything is very well molded. There are some sink marks on the wheel suspensions, but they are easily accessible for fixing with putty.
This scan shows two wheel sprues, front and back, but only one comes with each kit. Like the sprockets, the idler wheels are very detailed.
Lower hull and return rollers. Beautiful bolt detail everywhere. The return rollers are very well done. As typical with Mirage, the hull is broken into several parts so that bolts and other details can be molded onto the flat plates.
This sprue is new to this kit, and has the upper hull and most of the detail parts. All vertical plates are molded flat to allow for good bolt detail. Panel lines are recessed, and hatch handles are molded as separate parts, but they may be a little heavy, and should probably be replaced with bent wire. Storage boxes have separate lids so can be posed open. Front driver's hatch is also molded open. Engine access hatches are molded shut, but with the flat parts layout, it should be easy to open them up if you wish to add an engine (not included).

Also new to this kit is the turret sprue. The commander's hatch is molded open, but not the loader's hatch. A full gun breach is included, thereby providing some detail inside the turret. Some optional parts are inlcluded for other versions of this kit. The small sprue on the left is the AA machinegun with loads of extra ammo.
The tracks are a very soft, stretchable, and flexible vinyl, very reminiscent of the old Matchbox tracks. As you all know, I normally despise this style of track, but given their flexibility, I have hopes that they will actually work quite well. I've been surprised before. They are also very well detailed, as you can see in the following scan: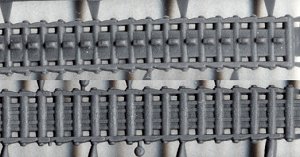 These tracks are definitely better than the tracks included with the Skif T-26 kits, and even better than the metal tracks in the Modelkrak resin kits. PART has recently released a set of etched replacement tracks for the Vickers/7Tp/T-26 series of tanks.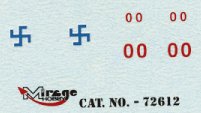 Markings are included for two tanks, one Soviet from the Winter War with Finland, and one captured by the Finns. The decals are very thin, with a matte surface, and are sharply printed. The instructions are also some of the best printed, and most comprehensive guides I have seen in a model kit. I believe that Mirage provides the best instructions in the industry.
This is a wonderful kit, and I look forward to seeing others in their T-26 series.
---